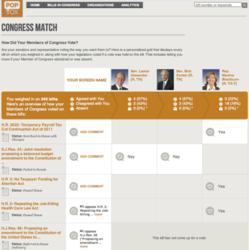 With the start of the 2012 election year. POPVOX Congress Match gives you even more reasons to tell your legislators what you think about pending legislation -- and to see how well they listened when Election Day rolls around."
Washington, DC (PRWEB) January 02, 2012
POPVOX, the award-winning online platform for advocacy about bills in Congress, announces POPVOX "Congress Match," a personalized grid to show POPVOX users how well their Representatives and Senators line up with their views.
"Congress Match displays every bill on which you took a position and how your legislator voted if a vote was held." said POPVOX CEO, Marci Harris. "As you weigh in on more bills and Congress takes more votes, Congress Match will update to help you see just how 'representative' your Representative and Senators are."
"With the start of the 2012 election year," Harris continued, "POPVOX Congress Match gives you even more reasons to tell your legislators what you think about pending legislation -- and a way to assess how well they listened when Election Day rolls around."
To access Congress Match, visit https://www.popvox.com/home/match. Note: you must weigh in on bills using POPVOX before information can be displayed on the Congress Match grid.
POPVOX is a neutral, nonpartisan advocacy platform that meshes legislative data with individuals' personal stories and sentiment. POPVOX delivers public input to Congress in a format tailored to actionable policy decisions and empowers users to leverage their expertise and numbers.
For more information, visit: http://www.popvox.com
###