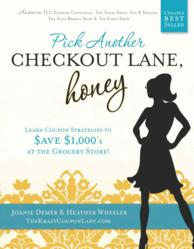 "Everyone should find a way to implement deal-finding and coupon-savings into their daily routine. You can have a better life courtesy of coupon-strategies from The Krazy Coupon Lady." Joanie Demer, The Krazy Coupon Lady
San Diego, CA (PRWEB) January 04, 2012
Krazy Coupon Ladies (and gents) are holding up checkout lines in record numbers, redeeming stacks of coupons for big savings! Think coupons are totally passé? You couldn't be more wrong! With the explosion of daily deal sites, Extreme Couponing shows, and celebrities including Kourtney Kardashian couponing on national TV, coupon clipping is trending toward the tech-savvy, younger generation! For those who want to know more, there is now more up to date and relevant guidance and tips in "Pick Another Checkout Lane, Honey."
For families that are: tired of paying for online shipping; would like to know how to dine out without busting their budget; want to print coupons from home; or need to start couponing with only a limited amount of time per week, there are now 4 new chapters in the second edition of The Krazy Coupon Lady's "Pick Another Checkout Lane, Honey." This revised "coupon bible" includes a new chapter on retail and entertainment, where people can learn secrets to shop online, plan a discount vacation and navigate daily deal sites with ease.
Think clipping coupons isn't worth the time?
Every hour-spent couponing in 2011 is worth an estimated $100 (Inmar Study and WSJ).
Think using coupons are just for the needy?
Primary drivers of coupon growth since 2009 are households with income of $100,000 and up (2011 Press Release, Coupons, Inc).
"The average family can save thousands a year by employing a few simple coupon practices," said The Krazy Coupon Lady's Heather Wheeler. "Pick Another Checkout Lane, Honey" will teach shoppers how to:
-Put down their scissors and use clipless, electronic coupons that load directly to their store loyalty card;
-Follow their favorite brands' social media feeds on Facebook or Twitter to access exclusive coupons and sale alerts;
-Print grocery coupons from home, including organic, vegan and gluten-free coupons;
-Use smartphones to become smarter shoppers;
Barcode scanning apps let shoppers know if they're getting a good deal by comparing prices across retailers. Comparison apps allow shoppers to instantly calculate and compare unit costs;
-Learn to save after shoppers have already made a retail purchase, by requesting a price adjustment. Price drop apps track purchases and alert shoppers if items go on sale within the price adjustment window, so refunds can be requested.
Please visit http://www.thekrazycouponlady.com to learn more.
###