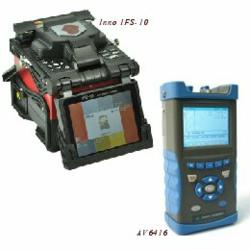 This year eFiberTools will be showing the newest fusion splicer and OTDR.
Phoenix, AZ (PRWEB) January 03, 2012
eFiberTools.com will be exhibiting at OFC/NFOEC - 2012, Booth 2349 in Los Angeles, CA from March 6th through March 8th. The Optical Fiber Communication Conference and Exposition and the National Fiber Optic Engineers Conference (a) is the premier international event for both the science and business of optical communications and networking.
The OFC/NFOEC has a wide-ranging technical program and the largest all-optical business exhibition, and is a preferred venue to check out the latest fiberoptic and optical technologies, products and services.
This year eFiberTools will be showing the newest fusion splicer and OTDR. Named The Fiber Master, the Inno IFS-10 core-alignment fusion splicer is manufactured in Korea and uses core alignment technology and is easily the 'best value' available in the US market.
As more and more fiber optic customers are discovering, the Japanese manufacturers, Fujikura, Fitel and Sumitomo, charge US customers a lot more than they do in many other countries, with Fujikura appearing to be the worst offender. AFL telecommunications, a wholly owned subsidiary of Fujikura, has blamed the higher prices in part on high wholesale prices of the splicers they purchase from Fujikura in Japan. But since Fujikura owns AFL Fujikura benefits on both ends. The Inno IFS-10 kit is a direct replacement for the popular Fujikura FSM-60s kit, but 40% less expensive and with a two-year limited warranty.
Also being displayed is the AV6416 OTDR from CETC. The brand is not well known but eFiberTools sells a lot of these OTDRs each year and have found them to be the Most Reliable and Best-Selling OTDR. AV6416 is a single-mode palm OTDR. A multimode version is also available.
Be sure to visit eFiberTools' booth #2349 two CDs two units and much more, and meet some of the eFiberTools team.
About eFiberTools.com
Visit eFiberTools.com for a full product line of Fusion Splicers, OTDRs, Test Equipment, Tools & Tool Kits, Connectors, Optic Cable, Enclosures, Cleaning Supplies and more.
Resellers Wanted: eFIberTools.com is looking for resellers for the Inno IFS-10 fusion splicer kit. eFiberTools is confident in the quality of the Inno IFS-10 and offering a Money-Back Guarantee, no questions asked.
EFiberTools offers better values in fiber optic tools and supplies and stocks a wide range of fusion splicers, OTDRs, optical test equipment, fiber optic cabling and connectivity, and other fiber optic products.
Located in Phoenix, AZ at 329 W. Melinda Ln., Phoenix AZ 85027, office hours are from Monday through Friday, 7:30a - 4:00pm. Visit their website at eFiberTools.com for more information on the Inno IFS-10 fusion splicer or other fiber optic tools and supplies. eFiberTools.com stocks the largest selection of new and quality used and refurbished splicing equipment from Fujikura, Fitel, Sumitomo, Emitor, Ilsintech, Vytran and others, OTDRs from EXFO, NetTest, and more, and other optical test equipment, fiber optic cable and connectivity. eFiberTools also carries the best, and extremely popular, fusion splicer Electrodes and other splicing consumables. Guaranteed quality but at half the price as the manufacturers' electrodes. Contact eFiberTools at Toll-Free (877) 773-3423 or Direct (623) 582-5560, or email info(at)efibertools(dot)com
Visit the specialty blog FusionSplicers.org for news and information on fusion splicers, and fiber splicing tools and techniques. Submit contact and get free exposure for your product, company or service. Contact the blog at info(at)fusionsplicers(dot)org.
###