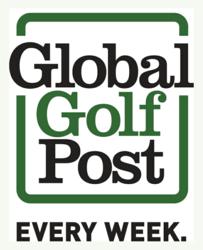 "This is another step forward for our rapidly growing business." James Nugent, CEO / President Global Golf Post
WINTER PARK, Fla. (PRWEB) January 03, 2012
Global Golf Post – the first designed-for-digital golf publication in the world – is pleased to announce the addition of two new media professionals: James Bunch as General Manager, European Edition and Heather Osborne as Marketing Communications Manager.
"We are thrilled to have these two talented professionals join our growing team," says James Nugent, President/CEO Global Golf Post. "This is another step forward for our rapidly growing business."
Bunch will be responsible for the development of the European Edition of Global Golf Post. He brings over 11 years of experience in the UK golf industry; most recently he was responsible for staging the 2011 Solheim Cup. Bunch is a native of St. Andrews, Scotland and played college golf at North Carolina State University where he received a Bachelors of Arts degree in Public and Interpersonal Communications.
As Marketing Communications Manager, Osborne will be responsible for the overall marketing and public relations planning and execution. She brings over ten years of marketing experience and specifically four years of digital golf marketing and sales. She has a Bachelor of Arts degree in Mass Communications from East Tennessee State University.
About Global Golf Post
Global Golf Post is the first digital weekly golf news publication in the world that offers the passionate golf enthusiast an extraordinary online experience that can be accessed across all major devices. Founded in 2010 and headquartered in Winter Park, Fla., The Post is delivered overnight on Sunday to a global and passionate golf audience.
For more information please contact – Heather Osborne (heather(at)globalgolfpost (dot)com) or click here to subscribe to Global Golf Post.
Media Contact
Heather Osborne
Marketing Communications Manager
Global Golf Post
407-250-5245
heather(at)globalgolfpost(dot)com
###