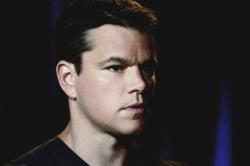 The idea that all of the progress in America towards equality has been struggled for by everyday people, I hope will become a point of discussion.
Chicago, Illinois (PRWEB) January 09, 2012
Part of a new, yearlong arts and education initiative in Chicago, a benefit performance of "The People Speak, Live!" produced by Voices of a People's History takes place at Metro, Tuesday, January 31st, 2012. Bringing to life the extraordinary history of ordinary people who made the United States what it is today, the evening pairs Academy Award®-winner Matt Damon with local Chicago talent for dramatic readings and songs of the actual words of rebels, dissenters, and visionaries from America's past--and present.
"The People Speak, Live!" is based on the award-winning documentary feature The People Speak which had its broadcast premiere on HISTORY™ in December 2009. Seen by more than eight million people, The People Speak features Matt Damon reading John Steinbeck; Bob Dylan performing Woody Guthrie; Marisa Tomei describing the 1937 Flint sit-down strike; Morgan Freeman and Don Cheadle performing the words of Frederick Douglass; John Legend reading Muhammad Ali; and many others performing the work of both the acclaimed and anonymous in U.S. history.
The January 31st benefit performance of "The People Speak, Live!"--its Chicago premiere--will feature readings of a fifteenth century priest documenting Columbus' arrival in the New World; a fugitive slave's scathing letter to a former master; the words of pathbreaking Chicago labor organizers; testimony of civil rights activists; musical performances from the songbooks of Woodie Guthrie and one-time Chicagoan Sam Cooke; poetry from the earliest days of Hip-Hop; Studs Terkel's interview with Mamie Mobley, the mother of Emmett Till; and more.
"It's an honest and exciting look at where we've come from," says Damon, a featured actor in and executive producer of The People Speak film. "The idea that all of the progress in America towards equality has been struggled for by everyday people, I hope will become a point of discussion for more students of all ages. With The People Speak, you're getting the actual historical text verbatim; there's no spin."
Since 2003, Voices of a People's History—the national non-profit that runs education and performing arts programs based on primary source materials has produced more than 100 performances in 17 states with casts that have included local students, parents, civic leaders, and actors alongside celebrated artists such as Black Thought of The Roots, Josh Brolin, Diane Lane, Danny Glover, Sandra Oh, Steve Earle, Robert Redford, Mark Ruffalo, Patti Smith, Kerry Washington, and Alfre Woodard--on stages ranging from small classrooms to the Kennedy Center for the Performing Arts and the Sundance Film Festival.
Voices of a People's History is producing the January 31st performance in partnership with Louder Than a Bomb: The Chicago Youth Poetry Festival. Bringing together hundreds of youth across Chicago every year, Louder Than a Bomb is the city's famous youth spoken word program, celebrating its 12th year in 2012 with the January broadcast premiere on the Oprah Winfrey Network of the award-winning documentary Louder Than a Bomb, directed by local filmmakers Greg Jacobs and Jon Siskel.
Together, the organizations have initiated a yearlong pilot project, bringing free educational material, teacher workshops, and public arts programming to classrooms and communities across Chicago. The Chicago pilot project, like the film, is inspired by the work of the late historian Howard Zinn, author of the bestselling A People's History of the United States (HarperCollins 1980) and, with Anthony Arnove, the primary source companion Voices of a People's History of the United States (Seven Stories Press 2004).
Since the Chicago Voices pilot project launched in September 2011, more than 500 Chicago educators have received the free Chicago Voices Educators Toolkit, suitable for middle and high school and introductory college classes. The toolkit includes The People Speak DVD, a preloaded USB flash drive with standards-aligned lesson plans, teaching guides, primary source material featuring Chicago history, as well as several books by Howard Zinn. A total of 1,000 educators will receive the toolkit by the project's end this June.
In addition, the pilot project has partnered with community groups--including Jane Addams Hull-House Museum, Erie Neighborhood House, Victory Gardens Theatre, and the Occupy Chicago Education Committee--to host free screenings of the film The People Speak. These screenings will continue in the first half of this year.
MEDIA REQUESTS: Chicago Voices Coordinator Kevin Coval is available for live interviews. Chris Moore and Anthony Arnove, producers of The People Speak can be available by phone, along with Voices Executive Director Brenda Coughlin. Select cast members, of both the film and the January 31st performance, will also be available for select interviews. If necessary, review copies of Voices of a People's History or The People Speak can be mailed. Please direct all queries to Sarah Macaraeg at 312-315-8476 or sarah(at)speakonitpublicity(dot)org. Cast photos are available at http://www.flickr.com/photos/voicesofapeopleshistory.
###