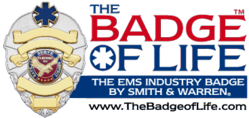 "The Badge of Life is the only badge designed exclusively for EMS Professionals"
White Plains, NY (PRWEB) January 03, 2012
The Badge of Life™ is the only badge uniquely designed to reflect the EMS professionals pledge to:
SAVE - By providing the best treatment available to patients while in your care.
SERVE- The community in which you work without discrimination.
RESPECT - The dignity and privacy of those homes and businesses you enter.
Manufactured in the USA by Smith & Warren®, The Badge of Life™ features the star of life positioned at the top of the badge with sun rays radiating from the center seal. The standard center seal has been designed using red and blue enamel representing blood that depicts Life. The Eagle represents the National EMS system and the five stars act as yet another reminder to provide every patient with quality care. Two standard models are available that have either a solid metal star of life, polished and electroplated to a brilliant silver or gold finish or a classic blue star of life finished with the highest quality hard fired cloisonné enamel. With a variety of finishes, attachments, lettering and EMS center seal options, The Badge of Life™ can be customized to meet individual needs. Combined with Smith & Warren's® Visualbadge™ technology customers can also customize and preview The Badge of Life™ at http://www.TheBadgeofLife.com.
Smith & Warren® is a leading U.S. Manufacturer of badges, uniform insignia, accessories, and a certified manufacturer to the Institute of Heraldry for the manufacture and supply of official U.S. Army badges and insignia. Smith & Warren has been proudly manufacturing uniform badges and insignia in the United States since 1925, and is the most technologically advanced badge manufacturer in the United States. The finest materials are combined with cutting edge manufacturing technology to produce a product that can be worn with pride. Every Smith & Warren badge is manufactured within 3 Weeks and is the only badge that comes with a Full Lifetime Warranty. To learn more about Smith & Warren visit http://www.smithwarren.com. For more information about The Badge of Life™ or Smith & Warren products and services please contact Joshua R. Medeiros, Director of Marketing at Josh(at)SmithWarren(dot)com, Phone: 914-598-0122, Fax: 914-517-2782.
###