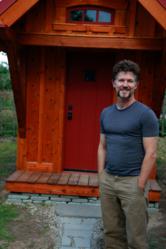 When I found out that living in a tiny house is illegal, I just had to get myself into one. This is the coziest form of civil disobedience I've found. It's the tiny Trojan horse with curb appeal.
Sebastopol, CA (PRWEB) January 03, 2012
Jay Shafer, founder of Tumbleweed Tiny House Company, is inviting both the media and public to his California home on January 7th of 2012. Jay's tiny home is considered illegal for habitation. The sit-in event aims to raise awareness on the issue of needless corporate regulations composed to financially burden the home buying consumer. The event starts at 2pm and will end at 4pm. Click here for the location.
The Tiny House, assembled by Shafer's Tumbleweed Tiny House Company, is just 99 square feet. It pays homage to what home ownership originally stood for: freedom. Given today's economic downfall we face almost unreachable standards to qualify for what is socially deemed as a "traditional home". Smaller houses make home ownership possible.
"On Saturday, January 7th, I'm inviting Americans to my house in Sonoma County to make our voice heard. The prohibition on small, affordable housing must end. After my brief tirade in the garden, I'll be taking questions and opening my little house for tours," says Jay Shafer. "People should be allowed to live as simply and frugally as they please. Current prohibitions on small houses, created by the housing and insurance industries and adopted by the state and local governments are unjust. Bank lending policies that put people into more house than they can afford have been a burden to all of us, in terms of the resulting foreclosures, bank bailouts and global economic strife."
Shafer explains why regulations on housing and square footage sizing has led to failed home ownership through record breaking foreclosures within the last decade. The right to live in a frugal, small home isn't a safety issue. This misconception, and other topics, will be discussed by Jay Shafer on January 7th, 2012 in front of his own tiny home. The media and the public are encouraged to attend and learn how downsizing can be more financially, socially, and environmentally beneficial.
Tumbleweed Tiny House Company isn't just a business, it is part of a growing movement! With over twenty models to choose from, consumers now have the right to affordable home ownership while consciously making a statement against government interference on their civil rights. For more information on the company, Jay Shafer, and to view the homes, please visit: http://www.tumbleweedhouses.com
To RSVP to this event, request a media kit, or submit an interview request, please utilize the contact information located within this release. Private media tours of Jay Shafer's home can be arranged upon request.
Space is limited. Please contact us to save a space:
Brett Haynes
(877) 331-8469 x 2
# # #