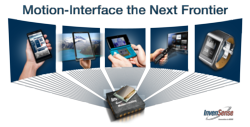 Sunnyvale, Calif. (PRWEB) January 03, 2012
InvenSense, Inc. (NYSE: INVN), the leading provider of MotionTracking™ devices for consumer electronics, will showcase the company's latest motion interface innovations for smartphones, tablets, game controllers, smart TVs, and wearable sensors at the CES 2012 tradeshow. InvenSense will also demonstrate the IDG-2020/IXZ-2020 family of gyroscopes which has been designed to support optical image stabilization (OIS) in smart phone camera modules, as well as the company's MotionFusion™ and factory calibration firmware that eliminates the costly and complex selection, qualification, and system level integration of discrete sensors, and guarantees that sensor fusion algorithms and calibration procedures deliver optimal performance for consumers. InvenSense will preview these technologies in room #MP25575 of South Hall 2 at the 2012 International Consumer Electronics Show in Las Vegas, Nevada from January 10-13, 2012.
Motion interface is rapidly becoming a key function in many consumer electronic devices including smartphones, tablets, gaming consoles, and smart TVs as it provides an intuitive way for consumers to interact with their electronic devices by tracking motion in free space and delivering these motions as input commands. Accurately tracking complex user motions requires the use of motion sensors such as gyroscopes, accelerometers, compasses, and pressure sensors, fusing the sensor outputs into a single and accurate data stream for use as input commands in consumer electronics devices, and ongoing run-time calibration to ensure an optimal user experience. InvenSense will showcase the company's latest motion interface solutions at CES 2012 including:

Simple and intuitive motion interface commands that control electronic devices
MotionTracking devices embedded in wearable sensors for health and fitness applications
2-axis gyroscopes designed for optical image stabilization (OIS) in smartphone camera modules
MotionTracking devices for indoor pedestrian navigation and location-based services
Delivering optimal performance with MotionFusion and run-time calibration firmware
InvenSense is the first company to deliver turn-key motion interface solutions with fully integrated MotionTracking devices and robust MotionFusion firmware algorithms. Combined with the company's patented Nasiri-Fabrication process, the key technology which enables direct integration of MEMS mechanical structures with CMOS electronics at the wafer level, InvenSense is delivering motion interface solutions that are intuitive to use, cost effective, and high performance.
For more details, or to schedule a private meeting to see any of the company's product demonstrations, please visit InvenSense at http://www.invensense.com or contact us at marketing(at)invensense(dot)com.
About InvenSense
InvenSense (NYSE: INVN) is the leading provider of MotionTracking™ devices for the consumer electronics market. The company's patented and patent-pending MotionFusion™ technology and Nasiri-Fabrication™ platform address the emerging needs of many mass-market consumer applications including smart phones, tablets, gaming devices, optical image stabilization, and remote controls for Smart TVs, that require improved performance, enhanced features, and new and more intuitive motion and gesture-based motion-interface solutions. InvenSense is headquartered in Sunnyvale, California. More information can be found at http://www.invensense.com.
© 2012 InvenSense, Inc. All rights reserved. InvenSense, MotionTracking, MotionProcessing, MotionProcessor, Nasiri-Fabrication, MotionFusion, MotionApps, DMP, and the InvenSense logo are trademarks of InvenSense, Inc. Other company and product names may be trademarks of the respective companies with which they are associated.
###