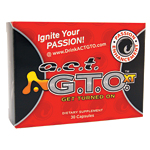 It's estimated that up to 20-30% of men and 40-45% of women are concerned about sexual function
San Diego, CA (PRWEB) January 03, 2012
Following the success of its A.C.T. G.T.O.™ passion-enhancement beverage mix, DrinkACT, a global direct sales company and division of AL International, Inc., has launched A.C.T. G.T.O. XT™. Just like the original, new A.C.T. G.T.O. XT is formulated with natural ingredients to boost the passion of both men and women.*
The demand from both sexes for natural options to support healthy libido has never been greater. According to a landmark study published in the Journal of the American Medical Association, as many as 20-30% of men and 40-45% of women are concerned about sexual function and its impact on relationships and physical and emotional well-being.**
Since the original A.C.T. G.T.O. beverage mix was introduced in June 2011, it has become one of the company's best-selling products, said company executives. With its convenient, on-the-go capsule delivery form, A.C.T. G.T.O. XT is expected to have similar success.
A.C.T. G.T.O. XT is an all-natural dietary supplement that features the following key active ingredients:

Testosterone Advantage™ (included in proprietary blend). Also known as calcium fructate, Testosterone Advantage is a patented complex is found in many fruits, vegetables, and legumes. Research has shown it to be an important molecule that can safely and naturally affect the body's testosterone levels.*
Proprietary blend. Includes the following botanicals and amino acids thought to support sexual health: Tribulus, Maca, L-Arginine, Muira Puama, Saw Palmetto, Testosterone Advantage, and L-Citrulline.*
Vitamin D. Serum levels of Vitamin D have been correlated with sperm quality in healthy men.*
B-vitamin complex. These key vitamins may play an important role in regulating the sexual organs.*
Zinc. This essential mineral is associated with prostate health. Some athletes use zinc for athletic performance and strength.*
To learn more about A.C.T. G.T.O and A.C.T. G.T.O. XT, please visit https://drinkactgto.com/.
*These statements have not been evaluated by the Food and Drug Administration. These products are not intended to prevent, treat, diagnose, or cure any disease.
**Source: Laumann EO, Paik A, Rosen RC. Sexual dysfunction in the United States: prevalence and predictors. JAMA. 1999;281(6);537-544.
About DrinkACT
Founded in 2005, DrinkACT is a manufacturer-to-consumer direct sales company and one of the fastest growing divisions of AL International (JCOF-PK) (http://www.youngevity.com). Headquartered in Chula Vista, CA, DrinkACT is revolutionizing international distribution by combining the global "high tech" reach of social media with the personalized "high touch" of network marketing.
About AL International
AL International, Inc. (JCOF-PK)(http://www.alintjcof.com) is a fast-growing, innovative, multi-dimensional company that offers a wide range of consumer products and services, primarily through person-to-person selling relationships that comprise a "network of networks." The company also is a vertically-integrated producer of the finest coffees for the commercial, retail and direct sales channels. AL International was formed after the merger of Youngevity® Essential Life Sciences (http://www.youngevity.com) and Javalution Coffee Company in the summer of 2011.
"Safe Harbor" Statement
This release includes forward-looking statements on our current expectations and projections about future events. In some cases forward-looking statements can be identified by terminology such as "may," "should," "potential," "continue," "expects," "anticipates," "intends," "plans," "believes," "estimates," and similar expressions. These statements are based upon current beliefs, expectations and assumptions and are subject to a number of risks and uncertainties, many of which are difficult to predict and include statements relating to our business plan and growth strategy through acquisition.
The forward-looking statements are subject to risks and uncertainties that could cause actual results to differ materially from those set forth or implied by any forward-looking statements. Important factors that could cause actual results to differ materially from those reflected in our forward-looking statements include, among others, the ability to implement our business plan and growth strategy through acquisition. The information in this release is provided only as of the date of this release, and we undertake no obligation to update any forward-looking statements contained in this release based on new information, future events, or otherwise, except as required by law.
###