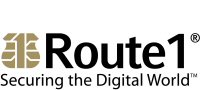 It gives me great pleasure to welcome Admiral Boensel to the board of directors of Route1
Toronto, Canada (PRWEB) January 03, 2012
Route1 Inc. (TSXV: ROI) a security and identity management company, and its board of directors, are pleased to announce the appointment of recently retired United States Navy Rear Admiral, Mark S. Boensel to its board of directors.
Admiral Boensel has more than thirty-two years of experience in leading people, managing assets and maximizing the useful value of resources. He led the U.S. Navy's two largest geographic regions; and in doing so, directed and participated in projects and forums for infrastructure sustainment, development, consolidation, anti-terrorism protection, and emergency preparedness at the highest levels within the U.S. Navy.
Admiral Boensel assumed command of Naval Air Station Jacksonville in April 2001. During that tour he was selected for promotion to the rank of Rear Admiral. In July 2004, he returned to Washington, D.C., as the director of the Chief of Naval Operations Environmental Readiness Division (N45). From December 2005 to October 2007, Admiral Boensel served as Commander, Navy Region Southeast. After receiving his second star, he assumed duties as Commander, Navy Region Mid-Atlantic in November 2007. He retired from active duty January 1, 2012.
Admiral Boensel holds post-graduate degrees in Business Administration, International Relations, and National Security and Strategic Studies. Additional achievements include the Navy Distinguished Service Medal, Defense Superior Service Medal, four awards of the Legion of Merit, the Defense Meritorious Service Medal, the Meritorious Service Medal, two awards of the Navy and Marine Corps Commendation Medal, and four awards of the Navy and Marine Corps Achievement Medal. Mark Boensel has accumulated more than 3,200 flight hours and more than 600 carrier arrested landings.
"It gives me great pleasure to welcome Admiral Boensel to the board of directors of Route1," said Michael D. Harris, Chairman of Route1. "He brings a wealth of knowledge and will make an excellent addition to our board."
Route1 also announced the appointment of Brian Levett as its new corporate secretary. Mr. Levett is a Partner at Macleod Dixon LLP whose practice involves providing advice on corporate, commercial and securities law matters to a range of public and private companies and individuals. Mr. Levett received his B.A. and B. Ed. from the University of Western Ontario and his law degree from Queen's University.
ABOUT ROUTE1, INC.
Route1 delivers industry-leading security and identity management solutions to enterprises worldwide, such as businesses, government and military, which need universal, secure access to all digital resources and sensitive data. These customers depend on The Power of MobiNET - Route1's communications and service delivery platform. MobiNET provides identity assurance and individualized access to networks and data. Route1's patented solutions are based on FIPS 140-2 cryptographic modules, and simplify the process of meeting increasingly stringent regulatory requirements for privacy and security. Headquartered in Toronto, Canada, Route1 is listed on the TSX Venture Exchange.
For more information, visit our website at: http://www.route1.com.
This news release, required by applicable Canadian laws, and does not constitute an offer to sell or a solicitation of an offer to buy any of the securities in the United States. The securities have not been and will not be registered under the United States Securities Act of 1933, as amended (the "U.S. Securities Act") or any state securities laws and may not be offered or sold within the United States or to U.S. Persons unless registered under the U.S. Securities Act and applicable state securities laws or an exemption from such registration is available.
Neither the TSX Venture Exchange nor its Regulation Services Provider (as that term is defined in the policies of the TSX Venture Exchange) accepts responsibility for the adequacy or accuracy of this release.
© Route1 Inc., 2011. All rights reserved. Route1, the Route1 and shield design Logo, SECURING THE DIGITAL WORLD, Mobi, MobiSecure, Route1 MobiKEY, Route1 MobiVDI, MobiKEY, MobiKEY IBAD, DEFIMNET, MobiNET, Route1 MobiNET, TruOFFICE, TruFLASH, TruOFFICE VDI, MobiKEY Fusion, EnterpriseLIVE, EnterpriseLIVE VO, MobiNET Agent and MobiKEY Classic, are either registered trademarks or trademarks of Route1 Inc. in the United States and or Canada. All other trademarks and trade names are the property of their respective owners. The DEFIMNET and MobiNET platforms and the MobiKEY, MobiKEY Classic and MobiKEY Fusion devices are protected by U.S. Patents 7,814,216 and 7,739,726, and other patents pending.
# # #