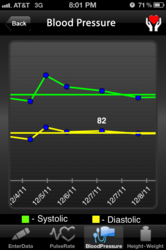 "This APP is really like my own personal assistant.",say Gabriel Bridger about "My Blood Works." Application.
(PRWEB) January 05, 2012
"My Blood Works" provides many ways to track a person's health through vitals, blood tests and more. One main feature is the ease of monitoring blood pressure and when the user tracks blood pressure and pulse readings between medical visits, it gives a physician more data for diagnosing. Keeping an eye on users weight with "My Blood Works" is an option. All the graph screens pinch in or out to see more readings, then find a date and touch the dot so the value will appear next to that dot for quick and easy access to current or previous readings. "My Blood Works" allows for multiple blood pressure readings a day. The graph screens all have a baseline for comparison.
The Enter Data screen includes an area for name, age, height and gender. This screen also shows the last ten blood pressures readings.
Some other features on "My Blood Works" include a complete tracking system for any blood tests, keeping medications neatly listed on a screen for easy access, and a screen for any appointments a person has. A screen for emergency phone numbers will dial out right from there.The final screen is for medical events called "My Records."
All this information in users device and with just one application, "My Blood Works" can also store data that applies to areas outside the medical world, such as other emergency phone numbers, appointments etc.
All values in "My Blood Works" are date stamped.
All information within "My Blood Works" is stored in the application only. Neither the developer, nor any third party, has access to the "My Blood Works" Application. Always consult a physician.
###