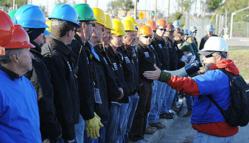 Everyone in Joplin was so excited ... it was just want the community needed
Deer Park, NY (PRWEB) January 09, 2012
ABC's popular series, "Extreme Makeover: Home Edition," goes out with its largest build ever – seven homes built in seven days in Joplin, Mo. Faux Wood Beams.com and Faux Panels.com partnered once again to assist in building five of the seven homes, all made in different styles to match the new homeowners. This very special episode is also the series' 200th and one of its most memorable ever.
"This project is of tremendous symbolic importance to Joplin," said Steve Barron, president of both FauxWoodBeams.com and FauxPanels.com. "As the scene of a sudden, devastating, natural disaster, it was imperative that we do whatever we could to help.
The city of Joplin donated seven lots – all in the area most affected by the devastating tornado. The seven homes were designed to showcase seven different architectural styles from all over the United States creating a neighborhood that reflects "The Heart of America."
The real core of America, however, is the character of the American people. The resilience shown by the families in Joplin, especially the families that lost children, is inspiring. Some of them, despite their personal losses, helped others in their community affected by the tornadoes.
The new homes intended for single moms Crystal Whitely and Crystal Cogdill are next door to each other so they can support and encourage each other. Both mothers had children ripped away from by the powerful winds.
"As a father myself, I can't imagine what these families went through," said Steve Barron. "Helping to create new homes for them was the least we could do."
Both homes received low maintenance faux wood beams, which were painted as part of the design. The Cogdill house also has Regency Old Chicago faux brick panels in one of the new bedrooms.
A Modern Cottage with Old Fashioned Brick
"Regency Old Chicago panels provide the look of authentic brick without the long installation time regular brick would require. On a build like this, that's important, and it'll be easy for her to maintain," said Barron.
An unprecedented number of volunteers came out for the Joplin project, not only to help the seven families getting new homes, but also to heal their community in general. Several of the families receiving homes went above and beyond the call of duty in the storm's aftermath to help others, even though they had lost their homes.
"Everyone in Joplin was so excited about the project. On both a practical and emotional level, it was just want the community needed," said Barron.
Cabin-style Home for the Howard Family
The Howard family includes a firefighter who was a first responder. Several of the families have been actively involved in community relief efforts, helping others despite their own problems. The Nyugens lost everything to the communist takeover of Vietnam, worked hard to come to America and then lost everything again in the tornadoes just as Mr. Nyugen was getting ready to retire – yet they're determined to rebuild and create a better community.
"The Joplin project is the most inspiring episode "Extreme Makeover: Home Edition" has ever done – and that's saying something. FauxPanels.com and FauxWoodBeams.com were proud to participate in a project that perfectly showcased America's ability to spring back from any adversity," said Steve Barron.
"Extreme Makeover: Home Edition – Joplin, Missouri" will air 8 p.m. ET/7 p.m. CT Friday, January 13. 2012, on ABC. Check your local listings for time and channel in your area.
About FauxWoodBeams.Com and FauxPanels.com
FauxWoodBeams.com leads the field of polyurethane wood beam products, ceiling panels and architectural products. Its products have been regularly featured on television shows such as Man Caves" on the DIY Network and numerous appearances on "Extreme Makeover: Home Edition." FauxPanels.com has the best selection of realistic faux brick, stone and wood panels and columns on the market. Its products have been featured on numerous television shows such as "Celebrity Apprentice" and "Extreme Makeover: Home Edition." Both companies are subsidiaries of Barron Designs, Inc., a family-owned home improvement business operating since 1972. For more information, visit FauxPanels.com and FauxWoodBeams.com.
About Extreme Makeover: Home Edition
The Emmy Award-winning reality program Extreme Makeover: Home Edition, now in its 9th season, is produced by Endemol USA, a division of Endermol Holding. It's executive-produced by Brady Connell and George Verschoor. The show airs Fridays at 8 pm ET/7 pm CT on ABC.
###