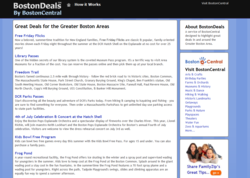 Unlike the numerous daily deals websites that have popped up over the past year, Boston Deals does not require users to pay upfront for deal that expire.
Boston, MA (PRWEB) January 05, 2012
Boston Central has launched Boston Deals to offer straightforward deals and information on discounts for fun activites in Boston and New England. Over the past year, there were a huge number of daily deals websites launched - largely driven by the buzz created by Groupon and its rapid growth. But as quickly as these daily deals sites have grown, users have become weary of having to quicky buy a deal before it disappears and then having to use it before it expires.
Boston Deals offers deals the way they were meant to be. Users have time to look around for deals that they really want, and they are not pressured to buy a deal. In fact, Boston Deals offers valuable information on many free activities as well as tips on discounts. For example, the Framingham Public Library and other libraries in the Minuteman Library Network offer discounted museum passes. Tips like these are highlighted on the Boston Deals website.
Currently, Boston Deals is focused on highlighting deals on activities and events. In the future, Boston Deals will be offering a broader range of deals and will also offer a newsletter of weekly deals including a wide range of coupons and discounts. To receive more information about the Boston Deals service, sign up for the Boston Central "fun things to do" newsletter, which will be announcing new features as they are added.
About BostonCentral
BostonCentral is the leading website for family-friendly events, activities, and parenting resources for the greater Boston and New England area. It offers a weekly newsletter along with a website containing in-depth information on activities, family-friendly events, and parenting resources. Readers say that they often rely on the newsletter to plan their family activities and find the website to be an invaluable parenting resource. For more information or to sign up for the newsletter, visit http://www.bostoncentral.com.
###