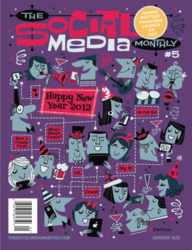 We hope that by offering the fantastic value of a lifetime subscription to the magazine...that people will support us during our Kickstarter funding project
Washington, DC (PRWEB) January 03, 2012
Washington, DC-based technology group, The Cool Blue Company LLC's magazine, The Social Media Monthly launched as a Kickstarter project to start the new year on January 1st, 2012. It coincides with the magazine's January 2012 issue going on-sale worldwide. The magazine is offering Kickstarter backers that pledge one hundred dollars or more a lifetime subscription to the magazine anywhere in the world. http://bob.vg/kickstarter The Social Media Monthly was recognized last month as one of the hottest magazine launches of 2011.
The January issue features a cover design by iconic artist Derek, whose work has been featured in Marvel Comics and The Cartoon Network. The cover portrays a New Year's Eve party celebrating the new year in a 1960s motif where partygoers are not just chatting with each other, but sharing their experience online with their cellphones and tablets. Feature articles include a review of the five biggest stories in social media in 2011 by Tonia Ries, as well as an overview of Google's first fiber to the home pilot in Kansas City by Mike Brown.
Other articles include a review of social media trends for 2012 by Kent Lewis; the best new social media tools of 2011 by Jason Keath; how NFL players are using social media and expectations for its use during Super Bowl XLVII by Rose de Fremery; how social media has changed the way we shop by Nicole D'Alonzo; a one on one interview with professional sports owner and former AOL executive Ted Leonsis by Rick Robinson, among many others.
"We hope that by offering the fantastic value of a lifetime subscription to the magazine, no matter where the person lives, for a very reasonable pledge, that people will support us during our Kickstarter funding project", said Robert Fine, founder of Cool Blue Company. "We're very excited to see the January issue now out on newsstands, and can't wait to be at the Consumer Electronics Show (CES) in Las Vegas next week where the magazine is being distributed throughout show. If you're there, stop by and visit us at booth 5308."
About The Cool Blue Company LLC
Robert Fine is the founder of Cool Blue Company, LLC, and author of "The Big Book of Social Media Case Studies, Stories, Perspectives". Robert has over 17 years experience as a systems and sales engineer with various companies including CMGI, Hughes Network Systems, and most recently as Senior Director of IT for Global Strategy & Development at Conservation International (CI). He is currently pursuing his PhD at George Mason University where he is researching links between investments in information technology and achieving conservation outcomes.
###