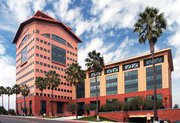 PowerX is a true advancement for liposculpture, making even and seamless body contouring results possible.
(PRWEB) January 03, 2012
SHAFT™ SAN DIEGO, San Diego's premium aesthetic medicine practice providing the full range of advanced cosmetic procedures, announces the availability of the FDA-approved PowerX™ Lipo System, a new power-assisted liposuction device designed to meet a wide range of body sculpting and contouring needs.
Now, there a new option in liposuction technology!
Produced by Sound Surgical, the PowerX™ Lipo System is an innovative power-assisted liposuction device that makes it easier for the cosmetic surgeon to remove fat. The cannula rotates, allowing fat to be removed quicker, more efficiently, and with less effort. It is also very quiet, unlike other liposuction devices.
The PowerX technique substantially reduces surgical time as compared to traditional liposuction. Combining a unique rotational handpiece with multiple power settings, PowerX enables more precise body sculpting and contouring. Capable of superficial work to large volume fat removal, the PowerX allows cosmetic surgeons more control by reducing aspiration time and physician fatigue.
PowerX offers physicians and patients the ability to custom-tailor body contouring treatment. PowerX can be used alone or in combination with other liposuction technologies such as SHAFT™'s exclusive Lipotherme™ laser lipolysis system.
With Power X, it is possible to have custom-built cannula to suit physician preference. The cannula rotational angle and speed can be adjusted independently of each other providing further customization.
This customization allows physicians to offer the best treatment for patients who are concerned about excess fat, including patients who have previously undergone liposuction. The ideal patient for PowerX is anyone who has larger volumes of fat in areas such as the abdomen, flanks, and outer thighs.
The unique rotational motion generated by the handpiece allows physicians to remove fatty tissue all the way around the cannula, rather than just above or below the ports. This allows for greater efficiency and smoother results when compared to other liposuction devices. The PowerX handpiece is lightweight and vibration is minimal. The handpiece is vented in order to provide continuous, uninterrupted suction. A wide range of speed and angle settings allows the physician to tailor the treatment to each patient's needs.
ABOUT SHAFT™ SAN DIEGO
Specializing in the latest advanced aesthetic medicine procedures, SHAFT™ SAN DIEGO offers NeoGraft™ Scar Free Hair Transplantation, MiXto SX™ Fractional Skin Resurfacing for acne scars and facial rejuvenation, PureLight™ Cellulite Heliotherapy, PowerX™ and Lipotherme™ Liposuction Surgery, LAVIV™ Cell Therapy, and NeoGraft™ LTS Acne Cold Laser as well as BOTOX®, Juvéderm®, Radiesse®, LATISSE® for eyelash growth, varicose vein and spider vein treatment, and laser hair removal. SHAFT™ serves clients throughout Southern California including San Diego County, Orange County, and the greater Los Angeles area.
For more information about SHAFT™ SAN DIEGO and the PowerX Lipo System, please see the Company's website at http://www.shaftsandiego.com.
###