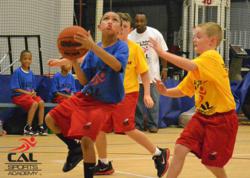 "Having a sports program that stands out in the community is important and the 76ers have really helped us to raise the bar," remarked Mr. Lord.
Harleysville, PA (PRWEB) January 04, 2012
CAL Sports Academy's Competitive Basketball League has been raising the level of play for youth to high school players in the Bucks and Montgomery County region for a number of years now. But now the Academy is taking league play to a whole new level by providing a day for the players to play basketball on the Philadelphia 76ers basketball court, and an opportunity for one lucky family to ride to the game and back in style,via a limousine!
The idea was the brain-child of CAL Sports Academy owner, Corey Lord. "I had been looking for a way to provide the players and parents with a special reward for their hard work during the season and the Philadelphia 76ers presented this opportunity, so it was perfect timing and something that no other community sports organization has been able pull off," said Coach Lord.
The idea is that with each registration for the ten week basketball league the player gets one ticket to the game and an opportunity to play on the Sixers basketball court during 3 hours of court time, that CAL Sports Academy has arranged with the 76ers. Additionally, the players will have the opportunity to sell tickets to the game online to their friends and families so they can watch the court time and the 76ers game versus the Orlando Magic on April 7th at 8:00pm. The top ticket seller will win the BIG Prize, a Limo ride for the family to the game and back. Plus CAL Sports Academy is also providing an additional prize to each of the next 4 top ticket sellers including: One Xbox 360 with Kinect System; One Kindle Fire Tablet; One Pair of Beats by Dr. Dre Solo Hi-Def Headphones; or One (1) 23" LED TV 1080p HDTV. The next 15 top sellers will be awarded a number of other great prizes from CAL Sports Academy and the Philadelphia 76ers! Plus as a bonus, CAL Sports Academy will be raffling off two (2) sets of five (5) club box seats to the game! Raffle Tickets will be sold for $2.00 each! Two Winners will receive: 5 Club Box Seats to the Game (does not include food or beverages).
"We're very excited about this league and this special event. We are proud of our partnership with the Philadelphia 76ers. Having a program that stands out in the community is important and the 76ers have really helped us to raise the bar," remarked Mr. Lord.
For more information about the league, prizes, to register for the league, or purchase tickets to the game go to: http://www.calsportsacademy.com/winteriibasketballleagues.php
or call Coach Corey Lord at 215-896-0810.
###