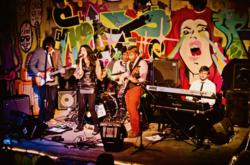 "The wild world of self-produced releases that take chances…on the wide open sound of Led Zeppelin and what No Doubt sounded like before their first major…there is a life in all this, not just an agenda to cut through the clamor." – musiczeitgeist.com
Hollywood, CA (PRWEB) January 04, 2012
Midori & Ezra Boy, winner of ABC Radio's Fame Games Effigy Awards "Most Popular Artist" of 2008, will be on stage at 11pm at the Whiskey A Go Go in Hollywood California on Friday night January 6, 2012. Midori & Ezra Boy have rocked the stages of the Temecula Film Festival 2011, Warped Tour, MethodFest, Bufest, and Rockstir, and will be performing at the 2012 Canadian Music Fest.
Their hard rock style is driving and energetic, and they just finished writing and recording their classic rock-inspired CD, "Burned", which will be released in the Spring of 2012.
About Midori & Ezra Boy
Midori & Ezra Boy, a 70's influenced rock group of Northern CA, take on forces of evil by wielding their instruments of rock! With the mighty Griswald in tow, and a high energy show, they leave all venues dripping with sweat, and sometimes covered in Zak's (the drummer's) blood- it's like the best taco truck party in town!
Website: http://www.ezraboymusic.com
Contact:
Ron Longo
ron(at)thehipfilter(dot)com
707-592-3735
###