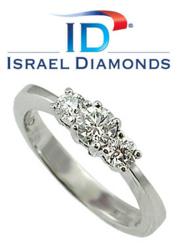 We wanted to give our customers a special gift of their own
Ramat Gan, Israel (PRWEB) January 04, 2012
Consumers who didn't get what they wanted for the holidays or weren't able to give the perfect gift to a special someone still have plenty of time. Israel Diamonds is rolling out a clearance sale that's sure to cure the post-holiday blues.
The 25 percent off sale starts Jan. 3 and expires Jan. 11 2012. This means there's nine full days to explore one of the most extensive online catalogs of wholesale diamonds and gemstones in the world while saving in the process.
"We wanted to give our customers a special gift of their own," said Amir Berman, Israel Diamond's chief executive officer. "We thought 'what better way than enabling them to save even more on our already low prices?' The sale selection is tremendous and includes some of our finest pieces, making this the perfect time for customers to shop for themselves or others in their lives."
Israel Diamonds is an international manufacturer with its headquarters located in the Diamond Exchange Center. This means it's able to offer its clients the lowest prices possible year-round. Already, Berman said, every diamond and gemstone on the site is wholesale priced, but the clearance sale on select items just puts the icing on the cake.
"Our quality and pricing is among the best in the world," Berman said. "We are not only the buying destination for clients around the globe, but also retailers who turn to us knowing our expertise speaks for itself."
While Israel Diamonds specializes in loose diamonds and gemstones offered at incredibly low prices, it's also much more. It also offers a complete line of jeweler services.
Clients can custom design their own pieces using Israel Diamond's easy online program to help them create one-of-a-kind engagement rings, anniversary rings and more. They simply start with the wholesale diamonds or gemstones of their choice and then pick the setting they desire from a large selection. Israel Diamond's jewelers take it from there, master crafting the precise pieces customers have selected.
Clients can also choose to have their own creations brought to life by one of Israel Diamond's master jewelers. To ensure customers have access to the expertise they need during the creation process, Israel Diamonds even ensures jewelers are available around the clock to assist with inquiries.
"We believe in providing our clients the ability to enjoy fine pieces of jewelry at prices they can afford," Berman said. "From custom designed engagement rings to stunning gemstone earrings and beyond, we pride ourselves in quality that's meant to last."
For more information about the post-holiday clearance sale, loose diamonds and creating custom jewelry, visit Israel-Diamonds.com.
About Israel-Diamonds.com
Stargate Cyber Trading Ltd. founded Israel-Diamonds.com in 1998. Since then, the company has become one of the world's leading diamond manufacturers with more than 40 years of experience in the diamond, colored stone and jewelry industry. Through its website, Israel-Diamonds.com, the company provides clients internationally access to high-end pieces of fine jewelry, gemstones and diamonds at wholesale pricing.
###