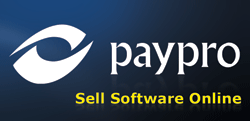 We were testing various eCommerce providers for a few months, selling our products through various registration services. We noted that the sales volume was 15% higher at PayPro Global. This was a very solid argument in PayPro's favor
Toronto, Canada (PRWEB) January 04, 2012
PayPro Global, a leading eCommerce provider of innovative tools and services to sell software online, announced today its partnership with GridinSoft. GridinSoft's flagship product, Trojan Killer, is a powerful tool that eliminates any system threatening malware.
Trojan Killer is designed specifically to disable/remove malware without the user having to manually edit system files or the registry. The program also removes the additional system modifications that some malware carries out which are ignored by some standard antivirus scanners.
"We were testing various eCommerce providers for a few months, selling our products through various registration services. We noted that the sales volume was 15% higher at PayPro Global. This was a very solid argument in PayPro's favor," said Dmitry Gridin, CEO of GridinSoft.
PayPro Global offers unique tools and services to achieve the best results in software and digital product sales. Among PayPro Global's key features are innovative cross-sale pop-ups and advanced lead management tools. PayPro Global's partners are assigned to dedicated account managers and web-designers who continuously test and optimize the selling process in order to achieve the greatest results in terms of conversion rates and sales volume.
"Another important point that made us go with PayPro Global was instant support and availability of specific documentation required by authorities," continued Dmitry Gridin.
"We have developed a customer oriented platform that saves time and resources for online business operations regardless of the size of the enterprise. We are committed to making eCommerce easy and available to everyone," said Matthew Silverman, CEO of PayPro Global.
About GridinSoft
GridinSoft is a software development house based in Ukraine. GridinSoft provides software development services to various companies worldwide, and also produces its own commercial software. GridinSoft's flagship product, Trojan Killer, is a powerful tool that eliminates malicious software from computers as well as removes system modifications carried out by malware.
Gridinsoft Website: http://www.gridinsoft.com
Trojan Killer website: http://www.trojan-killer.net
About PayPro Global
Founded in 2006, PayPro Global, Inc. develops and hosts an eCommerce solution that allows anyone to easily sell software online. PayPro Global supports more than one hundred currencies, all major credit and debit cards, and a wide variety of payment options. The company also offers software developers state-of-the-art licensing, activation, and anti-piracy protection for their applications.
PayPro Global is headquartered in Toronto, Canada, with development centers in Ramat Gan, Israel and Lugansk, Ukraine, and regional offices in Milwaukee, USA, and London, UK.
Website: http://www.payproglobal.com
###