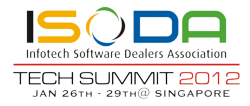 at ISODA Tech Summit Partners and Sponsors will deliberate and by the end of it we shall know what is the next big Idea which will hit the Indian Market - Vipul Datta
New Delhi, India (PRWEB) January 05, 2012
The ISODA Tech Summit 2012 announced today that RSA, Fortinet, Quest, SonicWall, Symantec, Microsoft, Bluecoat and Websense, have been confirmed as attending sponsors to the second annual gathering of over one hundred business men and women. These business men and women plan to meet with software companies and distributors beginning January 26th through the 29th, in hopes of coming away with "The Big Idea," this year's Tech Summit theme.
At press time, an equal number of additional vendors are pending confirmation for the ISODA Tech Summit for 2012, http://techsummit.info.
According to Sudarsan Ranganathan, spokesperson for the ISODA, "The event theme is appropriately named, considering the overwhelming response that the 2011 ISODA Tech Summit received at our first event held last year in Bangkok. The attending company representatives will be on the lookout for the next Big Idea!"
Last year more than one hundred CEOs from across India represented their software solution provider companies. This gave an opportunity to meet with representatives from an array of businesses like: Microsoft, Symantec, CA, Hitachi, Quest, Websense, Netcore, MIEL, Choice Solutions, Veeras Infotek, Microdium and Trendmicro some will be returning as sponsors again for the 2012 event held in Singapore this year.
"Never have we seen so much excitement from Sponsors for an event," Vishal Bindra, Sponsor Team, said.
"This years Tech Summit already has more then one hundred confirmed software companies that will be offering their products," Harinder Salwan, Secretary ISODA said.
With the continued growth for fresh new software packages, especially those in India. The software industry is experiencing high interest in software packages to satisfy a continued consumer base that is growing restless, with the same old packages that keep being dished out with only a new version label.
Information Week recently reported, "The technology products sector in India, which for the last two decades has been dormant and overshadowed, by the country's USD 76- billion software services industry which is on a steep growth trajectory. India is emerging as a software hub globally with over 2,400 product firms generating USD 2 billion of revenues, according to NASSCOM. Around 1,100 product startups have been launched in the last five years alone, with an impressive 22 percent growth in revenues during the period.
"The startups are focusing on localized India-specific solutions, built around key areas such as mobility, SMBs, e-commerce and education. They are targeting four broad industry verticals, viz., B2C (Business to consumer), B2B (Business to small business), B2E (Business to large enterprise) and B2G (Business to government)."
This presents an ideal situation for new software packagers to get a fresh foot hold in the growing India market share. Smaller software companies can take advantage of their flexibility to gain visibility with the business owners, who have the ability to make critical decisions at the summit.
"Partners and Sponsors will deliberate and by the end of it we shall know what is the next big Idea which will hit the Indian Market and be the source of growth for India Software Partner Community in the near future," said Vipul Datta, CEO Futuresoft
"With the returning sponsors and new ones coming on board daily, along with early registrations, this promises to be a huge win-win event for everyone attending. With the outstanding location on the small exotic island of Singapore, it is hoped the attendees will get work done but also be able to relax and socialize with other attendees and vendors," Alok Gupta, President ISODA, said.
The ISODA Tech Summit for 2012 will be held January 26th through the 29th. For a full prospectus and registration information, visit: http://techsummit.info.
###