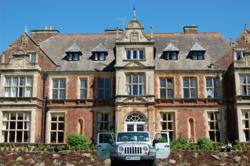 The boot camp changed style to a more relaxed weight loss retreat
(PRWEB UK) 5 January 2012
Established in 2006 FitFarms had a very non military boot camp approach to the exercise programme. The fitness camp director and health manager Stephen Cole a former squash professional from Denmark realised there needed to be a drastic change in the weight loss retreat programme.
Stephen explains "My background was starting to be my downfall. When I was 18 years of age I was use to putting myself through vigorous training programmes all the way up to 27 years of age. Looking back at the programme it was very close to a boot camp but on an everyday basis instead of a week. When I was 27 I turned myself into a personal trainer and owned a company in central London. The clients were the Chelsea set that were actually already fit and wanted to exercise to trim and tone. I teamed up with Julia FitzGerald the well known nutritional therapist from the Daily Telegraph. I created the exercise programme and Julia formed a brilliant nutrition plan based around weight loss and exercise."
Stephen realised there was no element of the weight loss retreat that tackled the behaviour of the individuals.
In 2011 Gillie Sutherland was introduced to FitFarms set up as the fitness retreat director. Gillie brought a more structured working environment for the staff and this also reflected in quality of the course for the FitFarms guest.
More recently Gillie has added video diary and testimonials to the course making the experience more interactive.
FitFarms is expecting to double the amount of of courses once the first video diary is made. The diaries and estimonials will give potential guest a real feeling for the course which FitFarms is hoping will make a difference to the sales over the 2012 financial year.
There will also be a whole new range of exercises introduced over the summer period bringing in the great outdoors. One of FitFarms' main strength is variety of exercise. During a week stay at FitFarms the weight loss retreat clients may find themselves taking part in exercises like Tai Chi one minute and then boxercise in the main studio the next.
FitFarms aims not only to improve your body but your mind as well ultimately giving their guest a sustainable approach to weight loss and fitness.
# # #