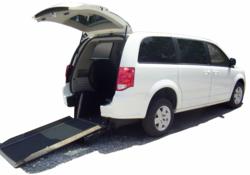 Akron, OH (PRWEB) January 03, 2012
Over the past two years, demand in the taxi market for wheelchair accessible vans has been increasing at a rapid rate. This increase is due to an elevated number of active wheelchair users, along with increased city and county government regulations requiring a percentage of each taxi fleet to consist of wheelchair accessible vehicles. Many taxi companies are now looking for effective vehicle alternatives. To best serve this growing segment, MobilityWorks Commercial of Akron, OH has purchased Liberty USA of Michigan, a national seller of wheelchair accessible minivans.
MobilityWorks has been building Dodge, Chrysler and Toyota minivans for wheelchair accessibility for three years, and have increased the number they have built by over 150% in 2011 alone. With this new acquisition, forecasts for 2012 will increase van production by another 40% over 2011.
"Mike Shank and the Liberty name are well respected in the industry. We wanted to bring on the best," said Taylor Clark, President of MobilityWorks Commercial. "Mike and Liberty will give us the expertise we need to best serve these customers."
With a new focus on minivans, plus innovative new products like the company's new Flex-Flat Ramp, which folds flat and out of the way when not in use, MobilityWorks Commercial hopes to provide the Taxi and Senior Care industries with the right vehicles and tools they need to more effectively transport people in wheelchairs, and do it more profitably.
For more information on MobilityWorks' new Liberty Division, visit http://www.LibertyWheelchairVans.com or call 800-769-8267.
MobilityWorks Commercial is the leading builder of wheelchair accessible vans, minivans and shuttles in America. MobilityWorks Commercial has Ford's largest mobility bailment pool with E-Series units in stock and among the fastest lead times in the industry. Every vehicle available is compliant with FMVSS, OEM & ADA standards, including crash testing and seat pull testing. More information can be found at http://www.MobilityWorksCommercial.com.
To schedule an interview with Michael Shank, please call Jim Cermak, MobilityWorks Commercial Marketing Specialist at 330-861-1118.
# # #