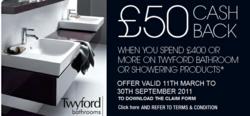 Customers who purchased Twyford Bathroom products from QS Supplies, have saved a lot of £'s on this offer.
Leicester, Leicester Shire (PRWEB) January 05, 2012
QS Supplies bathroom and home décor retailer (http://www.qssupplies.co.uk) have announced cash back offer on Twyford Bathroom products has been expired on 31st December 2011.
Twyford Bathrooms was established 330 years ago and were the world's first high volume manufacturer of sanitary ware. Since then, Twyford has manufactured state-of-the-art bathroom products for modern as well as traditional bathrooms. Twyford Bathrooms now manufacture a range of taps, shower enclosures, bathroom sanitary ware and accessories which are developed and designed to bring style and safety to any bathroom. Twyford Bathroom products are of high quality, which makes a bold statement while offering safe bathing and showering experience.
Twyford Bathrooms was offering £50 cash back, when you spend £400 or more than £400 on Twyford bathroom or showering products. First this offer was only valid from 11th March, 2011 to 30th September, 2011. But, due to massive popularity and public demand, Twyford decided to extend the offer period till 31st of December 2011.
Customer had to fill up the claim form and send it back to Twyford Bathrooms to avail £50 cash back. Customers who haven't filled up the form yet are requested to fill the form and send it to Twyford Bathrooms.
"Customers who purchased Twyford Bathroom products from QS Supplies, have saved a lot of £'s on this offer. But now as the offer is ended we are considering to bring such more offers, where customers can save money on their purchase of Bathroom products. Recently, we had consumers asking for deals on bathroom furniture, and hence we are offering Ultra Bathroom Furniture on our on-line store, which starts from £56.25 ", said a spokesperson at QS Supplies
QS Supplies are an on-line and direct retailer of bathroom and plumbing items. QS Supplies stocks, a full series of Twyford Bathrooms and offer them at competitive prices. Apart from this QS Supplies, also stocks bathroom furniture, towel warmer and bathroom suites from reputed manufacturers such as Duravit, Aqualux, Manhattan, Simpsons and Tivolis.
###