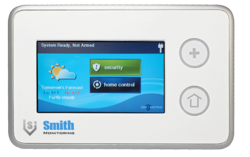 With all the features of the central panel in a portable form factor, the new TS1 panels leave nothing behind but the bulk.
Dallas, TX (PRWEB) January 04, 2012
As the home automation industry continues to innovate with new features and improvements on existing technology, Smith Monitoring is pleased to announce that it now carries the recently-released TS1 home automation panel. The new TS1 panel, which accompanies the Go!Control panel, takes the deep and simple touchscreen control that made the Go!Control panel a success and makes it portable.
With all the features of the central panel in a portable form factor, the new TS1 panels leave nothing behind but the bulk. Full system control is at the ready in the TS1 panel, including arm/disarm capability, system management, and more. Each panel is just under 7 inches tall and 4 inches wide; and at less than an inch thick, it's the perfect size for users to carry the panel with them. Up to four TS1 panels can pair with each Go!Control panel, so the system can be truly be accessible everywhere.
In combination with a home-installed Smart Home system, the panel can be carried throughout the house, giving the users ultimate connectivity to their central system from any and every room in their home. At a business, the small form-factor and portability allows for full control, while having multiple users means multiple levels of control during even the busiest of times.
The Smart Home system from Smith delivers unprecedented home control possibilities, from security to savings. With the wireless communication protocol of the system, users need not worry about burglars cutting phone lines. The system is always securely connected to the central monitoring station and able to immediately report to the appropriate civil services. A second built-in wireless chip, in combination with auxiliary sensors, detectors, and appliances, which gives the Smart Home system an expansive suite of features, from remote video surveillance to detailed system and access logs, wireless control of lights and appliances, even the thermostat. Smith makes full home automation available and affordable to anyone.
About Smith Monitoring
Smith Monitoring Inc. is headquartered in North Dallas and serves throughout Texas, Georgia, and California. Thoroughly committed to providing a superior experience through exceptional customer service and intelligent technology, Smith Monitoring has received the rank of A from the Better Business Bureau every year since its inception. Information about Smith's service, pricing, the Smart Home system, and more is available on the Smith Monitoring website.
###