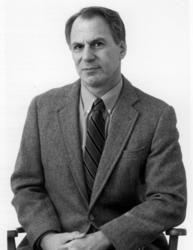 St. Louis, MO (PRWEB) January 04, 2012
The St. Louis County Library Foundation's 'Buzz' Westfall Favorite Author Series is pleased to present bestselling historian John M. Barry for a discussion and signing of his new book "Roger Williams and the Creation of the American Soul: Church, State, and the Birth of Liberty." The event will take place at Library Headquarters (1640 S. Lindbergh Blvd.) on Friday, January 20, at 7:00 p.m.
The program is free and open to the public. Books will be available for purchase at the event from Barnes & Noble.
The battle between church and state has dogged us for hundreds of years, as has that between the rights of the individual versus the power of the state. In this extraordinary book, New York Times best-selling writer John M. Barry traces back the origins of these debates, and what he finds is as relevant today as it was in the 17th century.
While we are familiar with the accomplishments of men like Thomas Jefferson and George Washington, Puritan theologian Roger Williams is often overlooked. In this revelatory book, Barry explores how Williams shaped the nature of religion, political power, and individual rights in America. The story is essential to the continuing debate over how we define the role of religion and political power in modern American life.
John M. Barry is the author of five previous books, including the best-selling "The Great Influenza: The Story of the Deadliest Pandemic in History," recipient of the Keck Award from the National Academy of Sciences, and "Rising Tide: The Great Mississippi Flood of 1927 and How It Changed America," recipient of the Francis Parkman Prize from the Society of American Historians.
The program with John M. Barry is a St. Louis County Library 'Buzz' Westfall Favorite Author Series presentation. The Westfall series features authors of politics, current issues, history, and sports. The series is co-sponsored by Jack Dubinsky and Sons; McMahon Berger; Sachs Properties; Brown Smith Wallace LLC; Royal Banks of Missouri; St. Louis Business Journal; Midwest Library Service; The Booksource; Ivey-Selkirk Auctioneers; S.M. Wilson & Co.; Arthur J. Gallagher and Co.; and Stifel, Nicolaus.
Program sites are accessible. Upon two weeks notice, accommodations will be made
for persons with disabilities. Contact St. Louis County Library by phone 314-994-3300 or visit http://www.slcl.org.
###