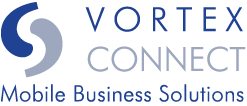 Toronto, ON (PRWEB) January 04, 2012
Vortex Connect, best of breed, mobile business-to-employee (B2E) applications provider has partnered with Axsium Group, the world's largest independent workforce management consulting firm, for the upcoming annual National Retail Federation (NRF) conference taking place from January 15 to 18, 2012 in New York City at the Jacob Javits Center in booth # 2068.
Vortex chose to partner with Axsium Group for this event for their subject matter expertise in the retail industry. Axsium is a leader in workforce management consulting with expertise in delivering world-class solutions to large retailers around the globe. With more than 250 successful projects, Axsium understands the workforce management needs of retailers and the importance of being able to justify and identity a return on investment on all technology and mobile initiatives.
Mobility enables real-time decision making and interoperability at all levels of an organization. By being able to access real-time data, employees can run a more efficient business at the retail store(s), at the distribution center(s) and at head office. Employees have full visibility into their schedules, jobs and their tasks so that they can execute on their organization's vision. Jointly, Axsium and Vortex Connect can help retailers select the right back office solutions and mobilize its deployments.
Vortex Solution Stack:
Mobile Shift Connec t is a shift management tool that fully integrates with existing time and scheduling systems. The application sends open shift assignments to eligible employees via multiple touch points including SMS, thereby minimizing the organization's cost to find replacement staff on the fly.
Mobile Employee Connect and Mobile Manager Connect are self-service mobile applications used for managing and executing HR and Payroll workflows via smartphones such as iPhone, BlackBerry, Android and Windows Mobile. Employees and Managers are able to execute such functions as viewing schedules and swapping shifts, entering time details in various formats, and completing the requisition and approval process for leave requests and timecard submissions.
Mobile Operations Connect is a mobile task management tool that creates, executes and audits the entire task lifecycle. The two way communication task platform helps retailers optimize inventory rates and improve store sales by providing real time data at all levels of the organization. District Managers can perform audits right from a smartphone or tablet device, push real-time data back to merchandizing and be able to adjust the right inventory to the right stores at the right times to minimize store mark downs.
About Vortex Connect Inc.
Vortex Connect is a mobile workforce management (WFM) solutions provider specializing in business-to-employee (B2E) communications. Vortex enables organizations to mobilize its people, its paper processes and organization. Employees are empowered with the right information, at the right time, so that they can execute on their organization's vision effectively. Mobile workforce management solutions will improve communications across the enterprise, team collaboration and streamlines processes. Transform your business and find out more at http://www.vortexconnect.com.
About Axsium Group
Axsium Group, a division of Knightsbridge Human Capital Management Inc., is the leading retail workforce management consultancy. With a singular focus on workforce management, our clients gain access to trusted business advisors, industrial engineers, and technology experts with unmatched experience. Axsium Group has delivered world-class workforce management solutions for clients such as American Eagle Outfitters, Borders, Express, and Safeway. For more information, visit http://www.axsiumgroup.com
For more information:
Colleen Wong-Sala
Vortex Connect
416 203 7787 x 257
Colleen.wong-sala(at)vortexconnect(dot)com
Liz Roth
Axsium Group
416 849 5400 x 5442
lroth(at)axsiumgroup(dot)com
###