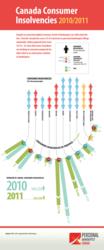 "It's clear that more Canadians are taking hold of their financial future and are looking to consumer proposals for debt relief as an alternative solution to bankruptcy." David Smith
Calgary, Alberta (PRWEB) January 04, 2012
Despite an uncertain global economy, levels of bankruptcy have actually decreased by 19.1 percent across Canada, according to the Canadian Office of the Superintendent of Bankruptcy.
Personal Bankruptcy Canada, a national network for debt and bankruptcy information, demonstrates from June of 2010 through June of 2011, overall personal bankruptcies in Canada decreased from a high of 145,233 in 2010 to 129,392 in 2011. Also notable, all of the Canadian provinces with the exception of Prince Edward Island, realized reductions from 7 percent up to over 16 percent in personal bankruptcies during that same timeframe.
In addition, while bankruptcy levels have fallen, the number of consumer proposals filed has risen nationally by 10.7 percent. Consumer proposals are court-approved debt repayment arrangements allowed for by a provision in Canada's Bankruptcy and Insolvency Act.
Consumer proposals are filed with the Canadian courts are facilitated by a Trustee in Bankruptcy. If accepted, the proposal allows individuals to pay down debt at a reduced rate over a pre-determined amount of time, without filing for bankruptcy. A trustee can determine if you qualify for a consumer proposal.
"It's clear that more Canadians are taking hold of their financial future and are looking to consumer proposals for debt relief as an alternative solution to bankruptcy," said David Smith, Trustee in Bankruptcy and Co-Founder of Personal Bankruptcy Canada (PBC). At the PBC blog in his post, "Consumer Proposal – Is it The Right Solution For You?" , Smith states that "the key advantages of a consumer proposal are threefold. First, you keep all of your assets. Secondly, your only income contribution will be the monthly payments to the trustee, and finally, you are legally protected."
For additional information about the trend of Canadian bankruptcies and consumer proposals from 2010 - 2011, see attached "Canada Consumer Insolvencies 2010/2011."
About Personal Bankruptcy Canada, Inc.
Personal Bankruptcy Canada, Inc. is a leading resource for Canadian debt and bankruptcy information. Its network of independent professional trustees in bankruptcy, located throughout the Canadian provinces and territories, are dedicated to helping Canadians overcome and resolve debt and financial problems.
###