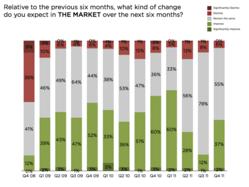 Atlanta, GA (PRWEB) January 03, 2012
GuildQuality, an Atlanta based customer satisfaction surveying company serving homebuilders, remodelers, contractors and real estate developers throughout America, recently published a report regarding the building industry's outlook on the housing market.
The report contains a summary of the feedback received in a Market Prediction Survey GuildQuality conducted in mid-December. The Market Prediction Survey is a quarterly survey in which GuildQuality requests feedback from the owners and operators among the hundreds of home builders, remodelers, contractors, and real estate developers that utilize their services. The two questions posed to Guildmembers inquired about the level of change they foresee in the market over the next 6 months relative to the previous 6 months in which they were surveyed, and also the level of change they foresee in their own company's performance over the next 6 months. The data featured in the recently published report is a compilation of evaluations stemming as far back as October of 2008.
"It's encouraging to see the amount of confidence increasing among construction professionals in regards to their outlook of the housing market and in the future improvement within their own company's," stated GuildQuality Founder and CEO, Geoff Graham. "No one surveyed this quarter reported an expectation of a significant decline within the market or their company, and less than 10% expected to see any decline within the next 6 months. That's a vast improvement from what this group anticipated at the end of 2008."
In each of the surveys, more than 100 professionals provided feedback.
For more on our members collective forecast and their corresponding comments, visit GuildQuality's blog.
###