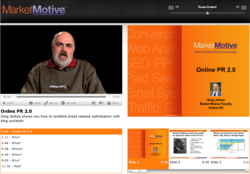 We have high expectations for KnowledgeVision's growth potential in a world where online video and content marketing are experiencing explosive growth.
Concord, Massachusetts (PRWEB) January 04, 2012
KnowledgeVision Systems, a leading provider of cloud-based tools and services for creating online, on-demand and live multimedia presentations, has closed an additional $2 million in Series A financing from a group of investors led by GrandBanks Capital. The company will use the new funds to strengthen its position as the world's most powerful online presentation platform, and to continue accelerating its market development activities worldwide.
KnowledgeVision presentations are used in the Americas, Europe, and Asia for sales and marketing, training and professional development, and communications with customers, employees, and investors. Content produced with KnowledgeVision can be viewed 24/7, 365 days a year, from any web browser anywhere in the world.
"We have high expectations for KnowledgeVision's growth potential in a world where online video and content marketing are experiencing explosive growth," said Charley Lax, founding general partner of GrandBanks. "Its online presentations combine the persuasive ability of PowerPoint with the ubiquity of video services like YouTube and Brightcove. In our year of involvement with the company, KnowledgeVision has nearly quintupled in revenue and added marquee clients like Alcatel-Lucent, Bain Capital, Progress Software, Equifax, the Federal Reserve Bank of New York, and Oxfam America."
"2011 was a terrific year for KnowledgeVision and its clients," said founder and CEO Michael Kolowich. "Clients continually surprised us with their creativity in using our cloud services to create compelling, high-performance video content. Also this year, our customers began using KnowledgeVision's tools in close coordination with CRM systems like SalesForce.com, marketing automation systems like Eloqua and Marketo, and learning management systems like Moodle, CyberU, and SuccessFactors."
During 2011, the company deepened its strategic relationships with online video platform providers Brightcove and Ooyala, providing integrated video and online presentation solutions to major corporations and government entities throughout the world.
"Thanks to this additional investment," Kolowich said, "we'll continue to push into new content applications in the social and mobile space, all the while focusing on tools that make rich content creation faster and easier for companies of every size."
About KnowledgeVision Systems
KnowledgeVision Systems is single-mindedly focused on making online video work harder:
--to make it perform better as a content marketing tool;
--to make it more impactful as a sales tool;
--to make it more engaging as a learning tool; and
--to make it more effective as a corporate communications tool.
Clients all over the world use KnowledgeVision's tools—KVStudio and Knovio—to create synchronized online video and audio presentations that combine their best communicators with PowerPoint slides, web pages and applications and supplemental material, and make them available from web browsers and mobile devices anytime, anywhere. KnowledgeVision is based in Concord, Massachusetts.
About GrandBanks Capital
GrandBanks Capital invests in early stage companies located primarily in the eastern part of the United States and Canada. Recognizing new technologies with the potential for significant impact, GrandBanks Capital team members and partners have been lead investors and senior executives for some of the most successful companies in their respective sectors, including Yahoo!, E*Trade, Art Technology Group, GEAC, GeoCities, Multex Systems, 1800Flowers.com, GSI Commerce, SoftBank, EMC Corporation, Thomson Financial, First Call, CCBN, Lycos, The Learning Company, State Street Bank and Phoenix Technologies LTD. With headquarters outside of Boston, the firm has proven investment expertise in information technology, software, internet and communications, mobile media, financial services, and wireless technologies. The GrandBanks Capital portfolio in the Software and Services sector currently includes; Exit41, GlassHouse Technologies, I Love Rewards, KnowledgeVision Systems, Nexage, OutStart, Savored, SilverRail Technologies, and Vela Systems.
###