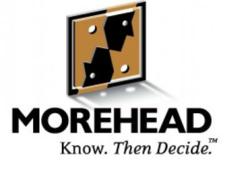 (PRWEB) January 04, 2012
The human capital consulting and survey firm Morehead Associates announces the addition of Senior Vice President of Science and Research Barbara Reillyto the senior leadership team. Morehead has earned a reputation for its thought leadership within healthcare. "Morehead has experienced significant growth over the past several years, and Barbara is joining Morehead at a time when momentum is increasing even more. She brings great ideas to Morehead that will help sustain this growth," says Morehead's CEO and President Larry Tilson.
Morehead, a leading provider of employee and physician opinion research and change management consulting, serves hospitals nationwide. Its clients include more than 1000 facilities at approximately 350 of the nation's leading healthcare organizations such as Brigham and Women's Hospital, Duke University Medical Center, and Ronald Reagan UCLA Medical Center. 
Reilly has more than 20 years' executive experience, consulting with senior business leaders in the U.S. and internationally. For the past 17 years, Barbara has taught in the MBA, EMBA, and PMBA programs at Georgia State University. Through the Georgia State Executive Education Program, Reilly Leadership Solutions, and Turknett Leadership Group, she has consulted with business leaders to understand strategic objectives and translate those into targeted talent/HR programs and initiatives. Reilly holds a doctorate in industrial and organizational psychology from Bowling Green State University in Ohio. 
"Morehead is moving to the next generation of science and research, and I am looking forward to accelerating the firm's initiatives in these areas," says Reilly.
About Morehead:
Morehead is a market leader in providing employee and physician surveys, research, and consulting services to the healthcare. Morehead has more than 30 years' experience and offers products and expertise built on robust data and norms from their substantial client base of hospitals and healthcare systems. This Charlotte-based company is known for its superior customer service and partners with clients nationwide. Morehead's focus is helping clients drive quality-focused, cost-effective, and patient-centered healthcare through an engaged workforce. For more information, visit http://www.moreheadassociates.com
###
This press release was distributed through PR Web by Human Resources Marketer (HR Marketer: http://www.HRmarketer.com) on behalf of the company listed above.