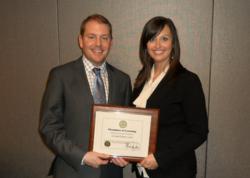 "We're pleased to award this designation to LocumTenens.com for their commitment and realization of the benefits of workplace learning."

-Mark Myette, president of the Greater Atlanta Chapter of ASTD
Alpharetta, Ga. (PRWEB) January 04, 2012
LocumTenens.com has been named a 2011 Champion of Learning in recognition of its commitment to workplace learning and understanding of its impact on organizational and employee performance.
The designation, given by the Greater Atlanta Chapter of the American Society for Training & Development, is awarded to Georgia-based organizations who through their workplace learning programs have demonstrated a deep understanding that the most important asset in a knowledge-based economy is talent and that a skilled workforce is the key to realizing results.
Recently, Governor Nathan Deal recognized the contributions of professionals who make the state's highly skilled workforce a reality and declared December 5-9, 2011 as Employee Learning Week in the state of Georgia. The new, annual Employee Learning Week (ELW) observance enables the public to recognize organizations that are committed to learning throughout the year.
"Businesses and organizations that are committed to creating a highly skilled workforce recognize the competitive advantage employee education gives them," said Mark Myette, president of the Greater Atlanta Chapter of ASTD, the premier association for Georgia workplace learning and performance improvement professionals. "We're pleased to award this designation to LocumTenens.com for their commitment and realization of the benefits of workplace learning."
Media Contacts
Paula Acker for LocumTenens.com (678-992-1283) or media(at)locumtenens(dot)com
Dan Curran of Curran PR for Greater Atlanta ASTD (770-658-9586)
About LocumTenens.com
Founded in 1995, LocumTenens.com is a full-service physician recruitment firm specializing in anesthesiology jobs, emergency medicine jobs, psychiatry jobs, primary care jobs, radiology jobs, surgery jobs, and CRNA jobs with U.S. hospitals, medical groups and community health centers. LocumTenens.com operates an internet job board with direct access to thousands of jobs — in all specialties — posted directly by facilities and agencies nationwide. LocumTenens.com is part of the Jackson Healthcare family of companies. To learn more, visit http://www.locumtenens.com.
About the Greater Atlanta Chapter of the American Society for Training & Development
Established in 1955, the Greater Atlanta Chapter of the American Society for Training & Development (ASTD) is a regional, non-profit association committed to providing workplace performance professionals with a forum for the exchange of professional development opportunities and resources as they strive to improve workplace learning and performance. The Greater Atlanta Chapter is one of the country's largest in the world's largest association dedicated to serving workplace learning and performance professionals. To learn more visit http://www.astdatlanta.org.
# # #