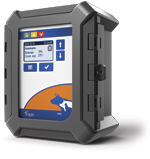 These two new products enable us to offer comprehensive controller solutions for farming-related applications.
Joliette, Québec (PRWEB) January 04, 2012
CTAQ, a designer and manufacturer of intelligent electronics, will introduce the unity and solo smart farm controllers during the International Poultry Expo, to be held from Jan 24th to Jan 26th in Atlanta (Booth 1923).
"In 2012, we are enriching our Excel Technologies line of electronic controllers with two new additions, enabling us to offer comprehensive controller solutions for farming-related applications", said Dominic Desy, director of Business Development. "Along with our Excel Technologies product line, CTAQ also offers customer-specific solutions that are designed and manufactured in our Canadian facility", added Desy.
The versatile unity family of products is designed to adapt to a variety of environmental-control situations for all kinds of farm buildings, including poultry houses and hog barns. The friendly interface allows users to define their own control strategy according to their specific environment. By itself, a single unit will support up to 24 outputs; but with the expansion port, it can accommodate up to 96 outputs.
The solo stand-alone family of products includes 30 configurations dedicated to single applications such as Lighting, Ventilation, Cooling, Air inlets and others.
The solo controllers offer a highly competitive quality-price ratio and an unsurpassed ease of use and installation, without compromising on the quality and durability of the product. In spite of their small size and simplicity, these small controllers offer, for each application, a whole range of advanced and comprehensive features.
About CTAQ
CTAQ provides complete embedded systems solutions to market-driven companies that are focused on developing a competitive edge through innovation. Customers benefit by partnering with a world class provider of engineering and manufacturing services, from concept to volume production of a product cycle. Products and services focus on smart farm applications and custom engineering services. For more information, visit the Excel Technologies web site at http://www.excelt.com. Email us at info(at)ctaq(dot)net or call us at 607 235 0936.
Your ideas, our electronics.
###