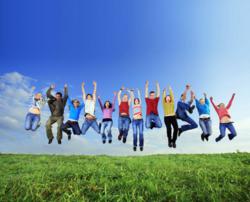 Motiv8 is the future of contact centre employee reward & recognition
London, UK (PRWEB UK) 5 January 2012
Following the successful launch of Motiv8 Solutions only 4 months ago, the cutting edge contact centre employee motivation business has expanded operations into Poland & the Czech Republic taking advantage of the rapidly growing contact centre industry in these territories. "The language skills, high levels of education & hard work ethic that prevails in these countries makes Poland and Czech Republic an obvious choice for us," commented Chairman Steve Clucas.
Humanwork has been testing the Motiv8 suite of tools at its sister company Universal Agent in Krakow Poland and is delighted with the results. Seweryn Drozdz, a partner at Universal Agent & Humanwork explained "We implemented Motiv8 in Krakow contact centre so that we could fully understand how it worked and the benefits it delivered before we attempted marketing it to other contact centres. We saw immediate results. The employees love the offering, and as employers we gained instant benefit. Most significantly, since implementing Motiv8 we have entirely eradicated new starter attrition which historically ran at 25-30%." More information on how Motiv8 Solutions achieves these results and how it has helped other companies is available at http://www.motiv8solutions.com.
The recent Contact Babel survey showed that employee motivation impacted 100% of the top 3 issues facing contact centre management in 2012. "It doesn't matter where geographically your centre is located, every decent contact centre manager knows that the key to success is maintaining employee motivation. Knowing it and being able to do something about it are two different things" says Clucas "and Motiv8 are experts in this industry and developed a range of tools to foster significantly enhanced levels of employee motivation."
Motiv8 is in the process of translating the entire suite of tools into Polish & Czech languages prior to a proposed launch of Motiv8 Solutions in Poland during Quarter 1, 2012. In addition the business is actively seeking partners in other European countries, South Africa & the USA.
Motiv8 Solutions is the global leader in contact centre employee motivation, reward and recognition through the use of gamification, competence & employee survey tools. Motiv8 is dedicated to improving contact centre employee morale and making often mundane jobs more exciting and interesting and in so doing, improving the productivity of their employer. They are based at Heathrow Airport, London. 6-9 The Square, Stockley Park, Uxbridge, UB11 1FW
###