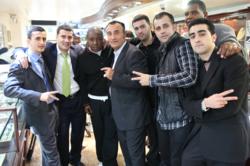 "Hah, you see the difference in the stones."

- Jadakiss
New York, NY (PRWEB) January 03, 2012
Hip Hop Diamond Jewelry experts, Avianne & Co. Jewelers, are at it again. Their most recent hip-hop collaboration with the legendary Jadakiss and rising star Teyana Taylor was shot on location, at their Flagship Store in New York City's Diamond District. The "Rock With Me" video has been steadily gaining hype leading up to its release. It grew to such an extent that within 24 hours of its premier on http://www.worldstarhiphop.com, the video collected 4 million views.
Avianne & Co. has been a primary source of fine diamond jewelry for the hip-hop industry over the course of the last decade. Specializing in everything from custom mens diamond rings to electronic jewelry made famous by Cam'Ron, Avianne & Co Jewelers have truly done it all. Their custom diamond jewelry designs are the perfect outlet for anyone who desires a unique approach to an age old craft. The close-knit team welcomes each and every idea, as they continuously strive to set the bar within their industry. Their longtime relationship with Street Heat Films, prompted the collaboration with Jadakiss for the "Rock With Me" video.
The Day of the shoot was truly a spectacle. The entire Jewelry District located in the heart of Manhattan on 47th st, was shut down for the video. For a few hours, one of the busiest blocks in the city was brought to a standstill. The front of the store was littered with hundreds of spectators, from rap fans to diamond dealers, simply trying to catch a glimpse of the production. A few pieces are featured in the video. Most notable is the new 100 Carat Ruby Bracelet produced in a Jet Black coating using top of the line PVD technology. The ruby bracelet and many other Mens Diamond Bracelets can be viewed online.
###