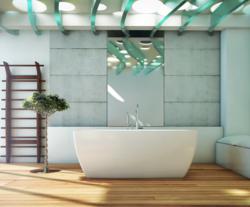 Quebec, Canada (PRWEB) January 04, 2012
The Essencia™ line of therapeutic baths from BainUltra offer a haven of pure harmony where one can restore balance and vitality. A perfect reflection of the Essencia Collection, the new Essencia Rectangular, is a freestanding bath with a sleek design and unsurpassed comfort. Its ergonomic design and therapies relax the body and help boost health.
The thoughtfully designed inner shell features two seats that work equally well as footrests, and offers three positions to choose from: stretched out, relaxed, or seated. Enhanced bodily comfort comes in the form of two armrests running the entire length of the tub. A backrest with a built-in inverted V props up the back and delivers a massage with superior therapeutic benefits. Essencia's dual row of air jets and a Hydro-thermo massage® of unsurpassed quality let the bather enjoy absolute comfort. The new Essencia Rectangular is a total environment with tailored ergonomics and therapies that envelop the body in a world of benefits.
The streamlined silhouette of this freestanding bath speaks to its reassuring stability. Its striking lines lend it a sculptural quality. The one-person Essencia Rectangular is designed to make a big impact in small spaces, measuring 68" x 38" x 26" it is suitable for rooms as small as 90 square feet, ideally next to a wall or window to maximize the available space. The unique design and refined shape will restore balance and vitality.
ABOUT BAINULTRA
BainUltra, a Canadian company, has spent more than three decades helping customers throughout North America improve their personal health. While they've pioneered the development of therapeutic air jet baths, their mission over the years has evolved. Today, they offer an integrated line of productsthat help consumers improve relaxation, health and well-being right in their own homes. It is BainUltra's hope that the world might embrace a new art of living in which we slow down, listen to what is within, and enjoy more harmonious and enduring relationships with one another.
For more information about the BainUltra collection and dealer locations, visit http://www.bainultra.com or call 1-866-344-4515.
###