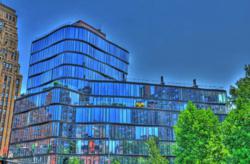 New York, NY (PRWEB) January 04, 2012
CityRealty, a leading New York City apartment search and resource site, today announced its list of 2011's Top 10 New Apartment Buildings in Manhattan. Carter B. Horsley, CityRealty editor and architecture expert, compiled the list based on architectural merit.
"For New York City's new residential buildings, there were some strong entries for excellent architecture—encouraging hope that the city's design conservatism may be waning," said Mr. Horsley.
1- One Jackson Square, 122 Greenwich Street
Bill Pedersen of Kohn Pedersen Fox designed this modest condominium building for Hines Interests and Aby Rosen. Like a babbling brook, sinuously rippling, it glistens with ever so slightly cantilevered floors and very narrow windows ever so slightly angled. Also known as 122 Greenwich Avenue, its 11-story tower is close to 14th Street. Unexpected and subtle, it ups the ante for modernity and does away with "clean" lines while amplifying the "pristine."
2 – New York by Gehry, 8 Spruce Street
Frank O. Gehry has been the wildman of computerized architecture since he upset the applecart of world architecture with his curvaceous Solomon R. Guggenheim Museum in Bilbao Spain at the end of the last millennium. This spindly rental apartment skyscraper is a bit tamer, but not less sparkling as three of its facades are seriously and softly crinkled in stainless steel. Fortunately, it is a lot more interesting than what is going up a few blocks to the west at Ground Zero and gives a shot in the arm to the city's civic center near the South Street Seaport even though its south façade is flush and the school at its base is clad in masonry.
3 – HL 23, 515 West 23rd Street
The High Line Park is New York's overnight sensation as it has proverbially risen from the industrial ashes of West Chelsea to spearhead the emergence of the city's most vibrant and artsy neighborhood. No building better hugs the elevated former freight rail line between 10th and 11th Avenues than HL23. This condominium building bulges and tapers and is partially cantilevered over the west side of the High Line on the north side of 23rd Street. Neil Denari was the architect and Alf Naman the developer of this building that prominently sports its diagonal bracing like an Olympian flexing muscles.
4 – Beatrice, 105 West 29th Street
Talk about split personalities: this 54-story tower façade on Avenue of the Americas is split into three sections and its north and south facades are split by two protruding vertical fins. There are 302 rental apartments above the 26 floors of the Eventi Hotel and the development's through-block plaza to the west of the tower has corrugated glass screens, restaurants, a krazy-kilt lawn-covered roof beneath a huge TV and nice landscaping. Drum roll, please, and don't wait for intermission….
5 - 41 Bond Street, between Lafayette Street and the Bowery
A modest but handsome addition to an intriguing "great block," this 10-story, seven-unit residential condo is faced with bluestone with horizontal stripes. Take that, you brownstones!
6 - Liberty Luxe, 200 North End Avenue, Battery Park City
This 32-story residential condominium is the last condominium building of the great Battery Park City complex to be erected. Designed by Ehrenkrantz Eckstut & Kuhn for Milstein Properties, it is one of the city's greenest buildings and sports a gentle curve. It and its neighbor, Liberty Green, sit atop a 60,000-square-foot community center and each was designed to LEED Gold certification standards with photovoltaic panels on their bulkheads, a blackwater system for toilet flushing and fuel-cell technology.
7 – MiMA, 460 West 42nd Street
Very handsome and slick, this 63-story, mixed-use building at 450 West 42nd Street is a striking, dark-glass tower designed by Arquitectonica for The Related Cos. This tower, which is known as MiMA--which stands for "Middle of Manhattan"—has 814 rental apartments, as well as the Signature Theater designed by Frank O. Gehry and a 669-room Yotel hotel. Its amenities include a dog spa, a basketball court, a roof deck and a garage. Just add a pinch of salt….
8 – Laureate, 2150 Broadway at 76th Street
This pleasant, 20-story residential condominium building on the southeast corner at Broadway has a small rounded corner and extremely attractive and ornate balconies. It was designed in pre-war style by SLCE Architects for The Stahl Organization.
9 - 535 West End Avenue at 86th Street
This handsome, pre-war style, 20-story, residential condominium building has a large rounded corner that affords its apartments spectacular views of the wonderful Church of St. Paul and St. Andrew, diagonally across the street, that was designed in 1897 by R. H. Robertson. It has only 22 apartments that are impressively large. Designed by Lucien Lagrange for Extell Development, it abounds in elegant detailing and many amenities.
10 - 200 Eleventh Avenue at 24th Street
This luxury residential condominium building overlooking the Hudson River has a very, very rare apartment amenity: private garage space in most of the apartments. The space is not in the basement, but actually adjacent to the apartment. The 18-story building, with 16 apartments, was designed by Annabelle Selldorf for GAIA House LLC, a partnership of Youngwoo & Associates and Urban Muse. Its bottom and top have two completely different and equally stunning facades. The former is a gun-metal terracotta with protruding piers and an arched and curved cornice with four-pane windows. The latter, comprising the setback tower, is stainless steel with multi-paned windows and curved balconies with glass railings.
About Carter B. Horsley
Mr. Horsley, editor of CityRealty, writes "Carter's View on Manhattan Real Estate" and his popular "CityRealty's Top 10 Buildings" lists. Prior to joining the online real estate and apartment search site, he spent 26 years writing for The New York Times as a real estate and architecture news reporter. In addition, he produced the syndicated radio program, "The Front Page of Tomorrow's New York Times," which was a WQXR standard. He later served as real estate editor and architectural critic for The New York Post and International Herald Tribune.
About CityRealty
CityRealty.com is a New York City apartment search and real estate site established in 1994. CityRealty streamlines the apartment search process by matching buyers and renters with qualified real estate agents who are screened for market knowledge, expertise, professionalism and client compatibility. Additional information about CityRealty is available at http://www.cityrealty.com or by calling (212) 755-5544.
# # #