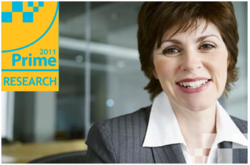 No matter how hard they try, if a bank does not act in their customers' best interest, they cannot create a satisfying experience
Denver, CO (PRWEB) January 04, 2012
Credit unions top banks in customer experience while PNC ranks highest among major banks according to the 2011 Northeast U.S. Bank & Credit Union Customer Experience Survey released today by Prime Performance, which advises banks on improving the client experience. The study, based on a survey of 4,934 bank and credit union customers in the Northeast U.S. (Connecticut, Maine, Massachusetts, New Hampshire, New Jersey, New York, Pennsylvania, Rhode Island and Vermont), shows results for eleven major banks, including: Bank of America, Capital One, Chase, Citibank, Citizens Bank, HSBC Bank, M&T Bank, PNC Bank, Sovereign Bank, TD Bank and Wells Fargo.
Credit unions are the overall customer experience leader with a Prime Experience Index (PXI) of 79%, well ahead of the overall bank average of 59%, with small banks, those with less than 100 branches, scoring 75%. Among large banks in the region, PNC ranks first with a PXI of 70%, followed by M&T at 67%. The lowest scoring banks are Wells Fargo and Sovereign Bank, both at 44%, and HSBC at 43%. The Northeast average score is 61%.
Overall Customer Experience Score (PXI):
(1) PNC Bank 70%
(2) M&T Bank 67%
(3) TD Bank 62%
(4) Capital One 58%
(5) Citizens Bank 56%
(6) Chase 53%
(7) Citibank 50%
(8) Bank of America 46%
(9) Wells Fargo 44%
(10) Sovereign Bank 44%
(11) HSBC Bank 43%
Northeast Average 61%
Credit Unions 79%
Small Banks (< 100 branches) 75%
Other Banks (100+ branches) 66%
All Banks 59%
Customer experience rankings are based on the Prime Experience Index (PXI). The PXI is a single metric showing how banks and credit unions are performing on delivering a superior customer experience and is comprised of four measures: satisfaction with service, likely to recommend, likely to come to the bank first for additional products or services (repurchase intent) and how effective that bank is at meeting financial needs. More information on the PXI and how it is calculated can be found at http://primeperformance.net/the-prime-experience-index-pxi/.
PNC is the highest ranked bank in three of the four questions that make up the PXI: overall satisfaction with service, likely to recommend and likely to come to the bank first for additional products or services. M&T Bank is rated the most effective at meeting customers' financial needs. Ratings for these questions are based on the net score, which is the percent of positive responses minus the percent of negative responses. For satisfaction with service, this is the percent of customers who are satisfied minus the percent who are dissatisfied.
"When it comes to the emotional aspects of the customer/bank relationship, as well as how customers feel about rates and fees, banks come up short compared to credit unions. Two large banks stand out among their peers, PNC and M&T. Customers at both banks reported the fewest problems or complaints, and rated the banks in the top three in the satisfaction with the banking channels, including: branches, calls to live phone representatives, automated phone systems, ATMs and internet banking," said Jim S. Miller, Prime Performance president.
Doing what is in the Customer's Best Interest
In the Northeast, 56% believe their bank or credit union is doing what is in the customer's best interest and 9% feel the bank or credit union is not acting in the customer's best interest, for a net score of 47%. Seventy-four percent of members say their credit union is looking out for the member's best interest and only 2% believe they are not, resulting in a net score of 72%. Among the big banks, customers trust M&T the most, with 59% believing the bank is doing what is in the customer's best interest and 5% not, for a net score of 53%. PNC had the second highest net score among the big banks at 52%. While only 2% of credit union members and 4% of small bank customers believe the bank is not acting in the customer's best interest, 16% of Wells Fargo and 17% of Bank of America customers feel they are not acting in the customer's best interest. At both banks 41% of customers do believe they act in the customer's best interest, resulting in a net score of 25% at Wells Fargo and 24% at Bank of America.
"Our survey concluded about a week before Bank of America announced its plans to add a debit card fee. Even at that time, many customers questioned whether they could trust their bank to act in their customer's best interest. In this economic environment, the importance of trust cannot be understated. No matter how hard they try, if a bank does not act in their customers' best interest, they cannot create a satisfying experience," said Miller. "Credit unions have the trust of their members and it shows in their scores. Among the large banks, PNC and M&T show that large banks can deliver a satisfying customer experience. They rate high in acting in their customer's best interest as well as in in most of the customer experience categories while the banks lacking their customers' trust, rate poorly across the board."
A free download of the full report is available at http://primeperformance.net/2011NEBankResearch/
About Prime Performance
Headquartered in Denver, Prime Performance works with financial institutions to increase profits by developing and implementing a superior client experience. We capture the voice of the customer and use that feedback to energize behavior change and create a shared vision of consistent service excellence throughout the organization. After conducting over 5 million consumer interviews, we've found banks and credit unions that focus on improving the customer experience gather more deposits, increase customer loyalty and improve the likelihood of cross-sell & referrals. Learn more about Prime Performance by visiting the company online at http://www.primeperformance.net/.
###