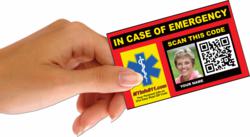 Palm Coast, FL (PRWEB) January 17, 2012
Myinfo911 discovered that misdiagnosis and adverse drug reactions (ADR), are especially prevalent in emergency settings.The National Patient Safety Foundation (NPSF) estimate misdiagnosis rates in an emergency setting to be upwards of 40%, much higher than the overall statistics, because of the time critical and often serious nature of these crises conditions. According to American Medical Association (AMA) there are some 2.2 million incidences of ADR resulting in over 108,000 deaths per year in the U.S., making it the 4th leading cause of death.
Myinfo911 developed its state of the art emergency ID card and sticker to provide people with an effective tool to protect themselves and their loved ones from becoming a part of this frightening statistic.
First responders can scan the state of the art Quick Response (QR) code on the victim's Myinfo911 emergency ID card or sticker with an ordinary smart phone, and instantly access the cardholder's medical history including blood type, allergies, prescriptions and other medications, and specific medical conditions such as diabetes, heart disease, or seizures. Armed with this important information provided by Myinfo911, first responders can provide critical care that is not only timely but less likely to result in misdiagnosis and ADR so prevalent in this situation. In addition, Myinfo911 also provides for instant identification of and notification to the victim's next of kin or other emergency designate.
About MyInfo911
Started in October 2010, MyInfo911 provides emergency identification cards that use QR codes to provide pertinent medical history information to first responders and other medical providers. The Palm Coast, Florida based company's cards have the person's picture, name and QR code on the front and the person's name, year of birth, emergency contact, blood type, allergies and specific medical conditions on the back. For more information visit https://www.myinfo911.com
###