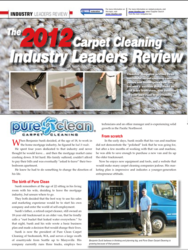 Seattle,WA (PRWEB) January 04, 2012
PURE CLEAN® offers superior carpet cleaning in the Seattle area and uses patented green technology to achieve the most thorough cleaning, without using harmful chemicals, soaps or detergents.
Benjamin Surdi, owner of Pure Clean Carpet Cleaning since 2008, is a recognized industry leader has won several awards including Evening Magazine's "Best Of Western Washington." Most recently, Surdi was recognized by Cleanfax Magazine, a national trade publication for the carpet cleaning industry. The magazine chooses only three companies each year in the field as "Industry Leaders."
Upon hearing the news, Surdi said, "I am honored to be featured in CleanFax this year." Surdi went on to say that his company will be expanding their carpet cleaning services to include an oriental rug washing division while they continue to deliver the healthiest and most thorough carpet cleaning in the Seattle region.
To learn more about what their world class services include or to schedule an appointment, please call the best carpet cleaner in Western Washington at 1-866-387-PURE.
###