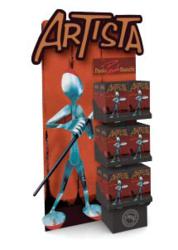 Burton, Michigan (PRWEB) January 04, 2012
Landaal Packaging Systems and The BoxMaker Inc. align to bring patented POPTECH displays to the Pacific Northwest.
Until now, all domestic manufacturing for the patented POPTECH automatic assembly displays was done in the state of Michigan. Today Landaal Packaging Systems, the owner of the patented technology within the United States, has teamed with alliance partner, The BoxMaker Inc., to expand manufacturing to the Pacific Northwest.
The BoxMaker Inc. is a Washington-based manufacturer with several distribution sites throughout the Pacific Northwest region. In addition to custom corrugated, The BoxMaker Inc. provides design services, labels, fabricated foam and a variety of packaging supplies.
"As we expand the footprint for the POPTECH display brand, it was important for us to find a partner with a strong history of quality and service" says Terry Choate, the Sales and Operations Planning Manager for Landaal Packaging Systems. "The BoxMaker Inc. fits that mold perfectly" added Choate. "They are a privately held company with a strong focus on providing value to their customer base."
Richard Brown, Vice President of The BoxMaker Inc., shared, "The patented POPTECH display system is a value added offering for our market. Feedback from the customer base is very positive and POPTECH's increase in sell-through percentages is creating excitement and positive buzz about the benefits in the retail point-of-purchase marketplace".
"Our goal is to increase our presence in graphic corrugated," says Jennifer Pruss, Business Development Manager for the The BoxMaker Inc. "By teaming with Landaal and offering the POPTECH branded displays, we have taken a big step in accomplishing this goal," says Pruss.
Poptech patented technology allows for signs, merchandisers, tiltbacks, step displays and many other point of purchase displays to be assembled at the retailer in seconds. One large value for the CPG manufacturers is that they can streamline their production process and eliminate separate pack-out stations, in some instances. The value for the retailer is no added labor at the store level. Both levels of business enjoy a lowered overall freight due to a smaller footprint for the product.
Landaal Packaging Systems is an industry leader in corrugated, point of purchase displays, contract packaging, sustainable products and fulfillment services. The company recently invested in the patented POPTECH technology, which allows them to offer the quickest assembly time on the market.
For more information about Landaal Packaging Systems, please contact the Sales and Operations Planning Manager, Terry Choate, 810-223-0605 or visit the website http://www.landaal.com/pop.
For more information on The BoxMaker Inc., please contact: Jennifer Pruss at 1-425-291-1229 or go to http://www.boxmaker.com
###