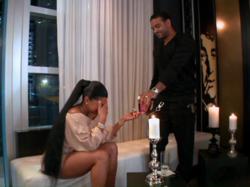 "Jimmy wanted to take it to the next level, so we sat down and came up with a very 'next level' ring." ( Izzy Avianne, President)
New York, NY (PRWEB) January 05, 2012
Chrissy Lampkin and Jimmy Jones finally tied the knot on "Love and Hip Hop" this past Monday when Jimmy made the move and proposed to his long time girlfriend. So who actually put together Chrissy's one of a kind diamond engagement ring?
The stunning custom diamond engagement ring was hand crafted by none other than the long-time friends and personal jewelers to Jim Jones, Avianne & Co. As many already know, the masters of hip hop diamond jewelry are no strangers to diamond engagement rings. Having crafted countless diamond rings for many notable engagements, the designers at Avianne & Co took a very one-on-one approach to the production of Chrissy's piece.
"Jimmy wanted to take it to the next level, so we sat down and came up with a very 'next level' ring." (Izzy Avianne, President)
By the looks of their happiness with the occasion, it seems like Chrissy's going to be wearing this rock for a long, long time. Then again who wouldn't, with over 8 carats in diamonds and a solitaire stone that would make Elizabeth Taylor's jaw drop?
For more custom diamond engagement rings, and top of the line custom diamond jewelry, log onto the official website for Avianne & Co Jewelers.
###