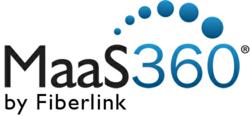 Blue Bell, Pa. (PRWEB) January 04, 2012
Fiberlink®, the leader in software-as-a-service (SaaS) solutions for secure mobile device and application management, today announced that O2 Business is using MaaS360 for its "Joined Up People" service. MaaS360 allows O2 customers to leverage a comprehensive, cloud-based mobile device management (MDM) platform without having to deploy and support server hardware and software.
Joined Up People from O2 Business is a new set of services to help firms introduce more flexible and effective working practices. O2 will offer consultancy, security and mobile device management on top of O2′s core communications products. With MaaS360, O2 Business customers can automatically discover all devices in their organization, apply policy, provide email access controls, enforce security and remotely lock and wipe devices. Through a simple over-the-air device enrollment and approval process, IT can now provide employees with rapid and secure access to company data using MaaS360.
"As a cloud-based service, MaaS360 provides O2 Business customers with the fastest way to gain secure mobile control with no additional on-premise hardware required to install and manage smartphones and tablets," said David Plumb, head of Enterprise for O2. "MaaS360 is a key component of Joined Up People, enabling us to provide a range of services to customers without changing significant IT infrastructure, which ultimately means that an easier implementation of a flexible working proposition."
"We are extremely pleased to deliver mobile device management solutions to O2's customers," said Steve Hammond, president of Fiberlink International. "MaaS360 has gained wide acceptance as the premier MDM platform, and we look forward to helping businesspeople across the UK enjoy greater flexibility and increase productivity."
About Fiberlink
Fiberlink is the recognized leader in software-as-a-service (SaaS) solutions for secure enterprise mobile device and application management. Its cloud-based MaaS360 platform provides IT organizations with mobility intelligence and control over mobile devices, applications and content to enhance the mobile user experience and keep corporate data secure across smartphones, tablets and laptops. MaaS360 helps companies monitor the expanding suite of mobile operating systems, including Apple iOS, Android, BlackBerry and Windows Phone. Named by Network World as the Clear Choice Test winner for mobile device management solutions, MaaS360 is used to manage and secure more than one million endpoints globally. For more information, please visit http://www.maas360.com.
© 2012 MaaS360 and the MaaS360 logo are trademarks of Fiberlink Communications and may be registered in certain jurisdictions. All other brand names are trademarks of their respective partners.
###