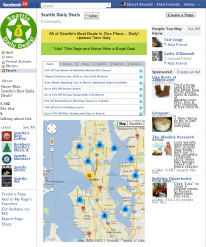 "Our daily deal marketplaces provide unprecedented convenience for Facebook members who shop daily deals and the companies that want to engage with them."
Seattle, WA (PRWEB) January 05, 2012
The Daily Deals Agency (http://www.thedailydealsagency.com), an innovative leader in the structuring and presentation of deals for merchants and consumers, has created its own network of Facebook deal aggregation marketplaces in the top 40 cities in the U.S.
Existing entirely within the Facebook ecosystem, the Company's unique marketplace pages provide access to daily deals from over 500 sources and present them both by category and by location on its first-of-a-kind interactive Google deal maps as well.
"Our Facebook Marketplace Network is designed to simplify the customer's shopping experience. Instead of having to sort through dozens of emails notifying them daily of individual deals, they can see all of the offers for their city presented in an easy-to-browse format. Because this happens within Facebook, registration to view deals is not necessary, and when a Facebook member 'likes' a deal they can Tweet it to their friends as well," stated Stephen Schramke, founder and CEO of The Daily Deals Agency. "Our daily deal marketplaces provide unprecedented convenience for Facebook members who shop daily deals and the companies that want to engage with them."
Consumers interested in finding their city's marketplace can search Facebook by "(cityname) daily deals" from their Facebook page. No registration is needed to start shopping, comparing and discovering deals.
The Daily Deals Agency is a full-service agency focusing exclusively on the needs of consumers, daily deal companies, and merchants in the daily deals industry. For more information about The Daily Deals Agency or its network of Facebook marketplace pages, contact Stephen Schramke at 206-855-0747 or email Stephen(at)dailydealsagency(dot)com
###