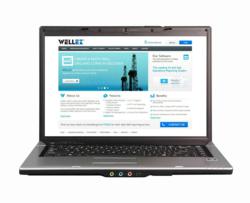 The new website will help our existing clients get what they need faster than ever before.
Houston, Texas (PRWEB) January 12, 2012
WellEz launched its re-designed web site http://www.wellez.com on Thursday, January 12, 2012. WellEz provides cloud-based reporting software to oil and gas operators around the globe. The new site dramatically improves navigation, appearance, and accessibility and was designed with the consumer in mind.
"The new website will help our existing clients get what they need faster than ever before," said Charles Jeffery, President & CEO of WellEz Information Management. "Additionally, prospective users within the oil & gas industry can quickly find example reports, educational videos, and a concise explanation of how the WellEz field reporting software works."
Some of the enhancements to WellEz.com include:

A crisp, clean new design;
A redesigned Support page to make access even easier for existing WellEz users;
An interactive grid of example reports for prospective WellEz customers;
A brief summary video that explains how WellEz works;
An enhanced login section that will automatically remember user credentials.
The new Operations Reporting section shows Drilling, Completion, Workover, and Facilities reports that come standard with the WellEz Reporting System. In addition to viewing examples of each report, users can click on sub-pages where they learn how WellEz is custom tailored for each type of job at the well site.
The new "How It Works" section quickly explains the WellEz Field Reporting System, from setup to launch. Visitors can also find a number of other resources, including news articles and links, client testimonials, and information about WellEz mobile field reporting for iPhone, iPad, and Android devices.
About WellEz
Founded in 2000, WellEz Information Management is a privately held, international oilfield service company located in Houston, Texas. The leading provider of field reporting tools for drilling, completions, and other operations, WellEz is staffed by experienced oil and gas professionals and a team of highly qualified software developers. The company's web‐based field software for well lifecycle reporting is the comprehensive solution to limitations, user difficulties, and support issues that are often encountered with traditional reporting software. For more information, visit our website.
###