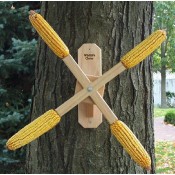 Clarence, NY (PRWEB) January 10, 2012
USABirdSupply.com offers a variety of fun and unique squirrel feeders that are sure to provide winter entertainment for all ages. Squirrel feeders should be placed in areas away from bird feeders and at a distance from your home. It is recommended to station squirrel feeders on the opposite side of your house, preferably near bushes or trees.
There are a variety of squirrel feeder styles that create interesting, fun entertainment.
Squirrel Spinners can be mounted to a tree or wooden post. Holding up to four corn cobs, this mobile squirrel feeder spins with the squirrel's weight showing just how adept squirrels can be when there is a treat involved!
Squirrel Bungees can be suspended from just about anywhere to attract squirrels with a single corn cob. An elastic section at the top of the feeder encourages a bouncing motion while the squirrel feeds. Watching these mischievous critters bob up and down will provide you with hours of free enjoyment.
Squirrels eat seeds, nuts, fruits, fungi, lichens, buds, roots, pine cones, leaves, twigs and bark. Peanuts can be fed to squirrels but they should be ROASTED, not raw, and UNSALTED. Sunflower seeds, pine cones, and acorns can also be fed to squirrels. Do NOT feed a squirrel with your fingers as their eyes are on the side of their head and they can not see what is in front of their mouth. A finger feels the same as a shelled nut. Squirrels do not hibernate and are active throughout the winter.
Birds Choice Recycled Squirrel Jar Feeder, which can be used with seed, peanuts or corn, provides hours of amusement watching squirrels go in and out of the jar.
Setting out water dishes is also helpful to squirrels but they should not be metal as their tongues can get frozen on the metal. Having separate squirrel feeders can create diversion feeding from bird feeders. However, having separate locations is very important.
Other interesting feeders include Songbird Essentials Chair & Table Feeder, Going Green Squirrel Munch Box, Birdola Cedar Squirrel Feeder, and Heath's Squirrel Feeder.
Early spring is the hardest time of year for squirrels because buried nuts begin to sprout and new sources of food are not yet available. Squirrels rely on buds of trees, pine cones and pine cone seeds. Squirrels are most active in late winter when the mating season begins—so watching them chase through trees can provide entertainment.
Eastern Gray Squirrels, a tree squirrel, is a scatter hoarder hoarding food in numerous places for later recovery. Squirrels will break the shell of a nut and clean the nut by licking it or rubbing it on their face before it is buried. This creates a scent to the nut which helps the squirrel find it later. As squirrels bury hundreds of nuts and seeds, they often do not uncover all of them and therefore are a key contributor to forest growth.
Squirrels chew on tree branches to sharpen and clean their teeth which is why you can see small branches around trees. Squirrel's teeth grow continuously—up to six inches a year, but stay short due to constant use.
To supplement feeding, planting trees that have seeds that squirrels prefer is helpful. This includes oaks, red maples, Bumelia evergreen and Pignut Hickory.
USABirdSupply.com is Located in Clarence, NY Outside Buffalo And Offers Over 1100 Bird Products Including Squirrel Proof Feeders, Hummingbird Feeders, Purple Martin Houses & Gourds, Bird Feeders, Bird Houses, Bird Baths, Garden Art, Bat & Owl Houses, Garden Flags, Butterfly Feeders, Live Mason Bees, and Honey Bee Supplies.
###