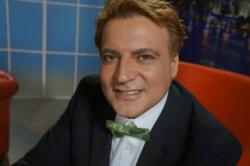 Farshchian: In LIVE TV anything goes.
Miami (PRWEB) January 10, 2012
"The Arthritis Show" is the first television series to chronicle the real life experiences of patients with arthritis and sports injuries as they make the life-changing decision to improve their health conditions.
Alimorad Farshchian best known as Dr. A.J., is an USA based physician, regenerative medicine practitioner, and television personality. He has hosted the television talk show "The Arthritis show "since the show's inception in 2011.
This inspirational journey begins inside the Florida's center for regenerative medicine. Dr Alimorad Farshchian brings patients and doctors together eye to eye at a global level using Skype. At every step in this challenging process, viewers at home will witness the struggles of these patients, who reveal themselves to be regular people in need of a helping hand as they strive for improvement, health, and future happiness.
The show airs LIVE at 6:30 pm EST Mondays, Wednesdays and Fridays. The show streams live on http://www.arthritisusa.net/live-video.asp
# # #