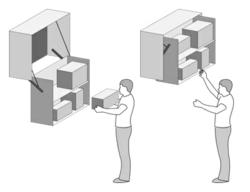 UPPERcase is promoting a contest for participants to win a $250 reward for their creative input.
Dallas, TX (PRWEB) January 05, 2012
UPPERcase Inc. invites all interested parties to watch a 60 second demonstrative video clip of their latest invention in order to collect valuable market research.
The new invention is aimed at creating, reclaiming and optimizing usable space. The CargoInn™ product line of UPPERcase's invention is to radically repurpose unused and inconvenient storage space in residential garages and to free up floor space. For Example, contents can be added or removed from the illustrated storage tray.
The new and innovative balancing technology senses the changes in the weight and assists accordingly. When ready to lift the tray up and out of the way, the invention effortlessly guides the storage tray back into the stowed position. The balancing technology counters the weight of the contents. The modular cabinets can be used singly, or adjoined vertically or horizontally.
Introduction of the invention initiates this research campaign designed to determine the best marketing strategy for product development and utilization. To minimize bias and maximize reliability, UPPERcase commissioned Dallas Internet Marketing to administer the research.
UPPERcase invites participants to provide input about specific product expectations. Additionally, participants are asked to vote on or provide a new simple phrase that describes and captures the simplicity of the innovative lift technology of the invention. To compensate creative contribution, UPPERcase is offering a $250 reward to the individual who provides the new phrase chosen by UPPERcase when the product is promoted.
The results from this survey will be compiled and made available to established companies interested in partnering with or licensing this technology with UPPERcase Inc. UPPERcase is committed to bringing its technology to partners that are best capable of commercializing the product in a variety of industries. Information about the "Preferred Partner Program" is found on the company website.
Additional marketing feedback is welcome. To see the invention in use and participate in this brief market research, visit this website. Any feedback collected will be used in future design and distribution milestones.
###