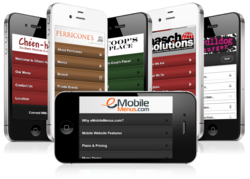 Everyone has been so excited when they walk into our restaurant and they are able to see our menu on their smartphones. Thank you eMobileMenus.com we will be recommending you to all of our friends!

- Perricones Marketplace
Miami, FL (PRWEB) January 04, 2012
eMobileMenus.com, a Miami based provider of website development services focusing on the rapidly growing smartphone market, has rolled out a new service platform catering to the specific needs of the restaurant and hospitality industries.
The service, a multi-tier subscription service, provides a hassle-free way for restaurants (or other businesses with a service menu) to retain website visitors that access their website using a smartphone. By doing so, they put menu items, phone numbers, and even Google Maps of a restaurants location in the palm of potential customer's hands.
"We've managed websites for countless restaurants, and the growing trend over the past couple of years has been the use of smartphones to access them," said Adam Frankel, Co-Founder and Chief Executive Officer of eMobileMenus.com. "In that time we've seen it account for nearly 20 to 25 percent of a restaurant's website traffic."
With older sites, those built two years ago, smartphone accessibility was never considered an issue. As smartphone use continues to grow, and more and more people are using them as their main communication device, these website owners are left with little assistance to try and keep up.
The eMobileMenus subscription-based service platform provides a complete suite of services that eliminates all the hassles that have become synonymous with building a website. The mobile site subscriptions are available for various budgets and needs, have no setup fees, no contracts and are pay-as-you-go.
"We understand our clients prefer to keep their money in their businesses, and many times a large lump sum expense can make it difficult to take action," said Frankel. "By eliminating the upfront costs, and any risk on the part of the business owner, eMobileMenus.com is making a mobile website much more accessible and easier to justify, as its monthly cost is substantially less than any other utility or service bill.
The service is straight forward. A business owner signs up for the appropriate package and pays by credit card for the first month. Within 24 hours of signing up, a base version of the business's website is created, and all login credentials are emailed to the customer. A customer has the option to have the logo, content and menu items from their regular website copied over to the mobile site, or they can provide eMobileMenus with all new or revised content and images. Once completed (usually within 48 hours), the only thing needed is access to the main website so that a smartphone detection code can be added.
In addition to the actual website, the eMobileMenus platform provides a robust content management system (CMS) allowing site owners to modify their site content and menus on-the-fly should they choose not to have eMobileMenus do it for them. There is also a contact form submissions system that emails the site owner when comments, questions, or inquiries are left and stores the submission for follow-up and data mining. In addition, there are marketing support items including integration of social media accounts, and QR (Quick Response) Code generators.
"eMobileMenus not only provides the customer with a "hands-off" solution where we do everything for them, we provide the marketing tools to help drive traffic to the site and increase customer loyalty," said Michael Farin, Co-Founder & Chief Technical Officer. "For example, our system automatically generates QR Codes that allow users to scan a graphic box with their phone and be taken directly to the site or promotional page without having to type even a single character.
Part of the subscription service includes a printable in-store display of the mobile site along with website URL and the QR code with a call-to-action. The QR Codes are stored in the customer's account and can be edited at any time. These codes can appear on anything from pizza boxes and fliers, to neighborhood coupon magazine ads and delivery vehicle signs. Smartphone users are on the move and stopping to type a URL is becoming less and less practical.
In addition to the mobile websites subscription service, eMobileMenus is offering a full range of services including turnkey website solutions, search engine optimization, print/marketing design, and other services aimed at helping restaurants acquire new customers and keep in contact with their existing customer base.
"eMobileMenus offers everything a restaurant or small business needs to stay relevant online, while leveraging their traditional marketing methods to help reinforce it," said Farin. "At this point with social networking sites like Facebook, Twitter, Yelp, etc. it's important to target and serve the needs of this exponentially growing share of a websites visitor traffic, both in print and online."
For the layman, eMobileMenus.com makes understanding the concept simple. Visit http://www.emobilemenus.com and you'll see an upfront visual example of the difference between a mobile website and a regular full version website. Then to further understand the concept and why it is worth considering, click on the view demo button. This will allow you to view and navigate a "smartphone" version on your desktop.
eMobileMenus provides a hassle-free way for restaurants (or other businesses with a service menu) to retain website visitors that access their website using a smartphone.
For those with additional questions eMobileMenus' customer service is available by calling 1-888-889-3390 between 8:30am and 5:30pm EST, or on the site via live chat.
###