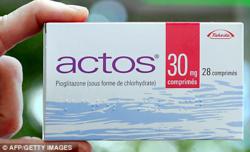 I have no doubt this number will increase significantly because consumers are still learning of the link between Actos and bladder cancer
(PRWEB) January 04, 2012
On December 28, 2011, the U.S. District Court for the Western District of Louisiana consented to the assignment of all federal Actos cases to Honorable Rebecca F. Doherty. As a result, more than 100 lawsuits alleging plaintiffs developed bladder cancer while or after taking Actos will be transferred to the Western District of Louisiana at this time. "I have no doubt this number will increase significantly because consumers are still learning of the link between Actos and bladder cancer," commented attorney David Ennis of Ennis & Ennis, P.A.
In August, Plaintiffs with pending lawsuits against Japanese company Takeda Pharmaceuticals America Inc. (Takeda), the manufacturer of Actos, filed a motion to transfer 11 pending actions, and all subsequent Actos injury actions, to a single judge for pretrial proceedings. The consolidation avoids document duplications and inconsistent rulings, while also potentially saving on expert testimony.
Actos, with pioglitazone as its sole ingredient, has been linked to increased risk of bladder cancer. In June the U.S. Food and Drug Administration (FDA) required added warnings on the Actos label indicating that the medication may increase the risk of bladder cancer (bladder tumors) when taken for more than a year. Additionally, the newly updated drug label now recommends that healthcare providers should not use pioglitazone in patients with active bladder cancer and should use pioglitazone with caution in patients with a prior history of bladder cancer.
Takeda and Eli Lilly & Company jointly promoted Actos in the United States since its launch in 1999; however as of 2006, Takeda solely assumed all marketing and sales responsibilities for Actos. "In 2008, with the knowledge of the risk associated with developing bladder cancer while using Actos long term, Takeda achieved its marketing goal by making Actos the tenth best-selling medication in the U.S., all while placing American citizens utilizing Actos at risk of developing bladder cancer," the lawsuits allege. Furthermore, in the fiscal year ending March 31, 2010, Actos had sales of $4.6 billion, making it Takeda's best selling drug, according to Business Week.
For those who take Actos, bladder cancer symptoms may include: blood in urine, painful urination, frequent small amounts of urination, frequent urinary tract infections, lower back pain, and abdominal back pain.
If you or a loved one has suffered from bladder cancer or bladder tumors after taking Actos, complete a MedWatch Form at http://www.fda.gov so that the FDA is aware of the adverse event. Then seek the opinion of an experienced lawyer to explore your legal rights.
Ennis & Ennis P.A. is offering free nationwide confidential consultations for patients who are taking or have taken Actos, Actoplus or Duetact and suffer these symptoms by calling toll free 1-800-856-6405 or by going to http://www.ennislaw.com and completing an online case evaluation form.
Ennis & Ennis, P.A. is a nationwide law firm with offices in Ft. Lauderdale, Miami and Washington D.C. that concentrates its practice in mass torts and represents individuals against pharmaceutical companies, as well as medical device makers.
Ennis & Ennis, P.A. has been representing clients individually since 1986 and has recovered over $100 million in settlements for its clients.
Ennis & Ennis, P.A. is also investigating cases involving, Accutane, Avandia, Fosamax, Transvaginal Mesh Devices, Paxil, Zoloft, Prozac, Depuy Hip Recall, Zimmer Hip Recall, Depakote, Reglan, SJS/Dilantin, Yaz, Yasmin and Ocella Birth Control Pills.
Remember the law limits the time in which you can file a claim, so don't wait to explore your legal rights. Call today toll free 1-800-856-6405 or visit http://www.ennislaw.com.
###