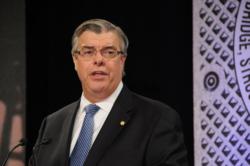 Washington (PRWEB) January 04, 2012
Ironworkers, contractors and owners will flock in never-before-seen numbers to Las Vegas, Jan. 29 – February 1, 2012, to attend courses and sessions designed to hone their management and leadership skills. They will also have the unique opportunity to glean tips on expanding their customer base and maximizing profits at a series of courses designed specifically for IMPACT partner contractors.
The conference agenda includes The Steel Supply Chain: AISC Tutorial, a session which will count for Continuing Education Credits. In addition, the conference will offer a variety of new breakout sessions designed to familiarize attendees with today's era of wireless communication and technological innovation.
"Construction Apps Even an Ironworker Would Love" (Jan. 30) will assist attendees in navigating the murky waters of mobile device applications, while "Your Ironworkers are Talking …A Lot!" will delve into the fast-paced world of social media.
"We have recognized that the field of mobile communications has become a valuable part of the construction industry," said Harvey Swift, IMPACT's Assistant Director of Education and Training. "Our breakout on construction apps is designed specifically to provide a much-needed introduction to the world of mobile phone and tablet technology that can really improve our workflow." Swift is scheduled to host the "Construction Apps Even an Ironworker Would Love" breakout session.
In addition to the educational, value-added breakout sessions, this year's Labor-Management Conference will also feature a host of well-known speakers, including James Conway, 34th Commandant of the U.S. Marine Corps; Charlie Cook, syndicated political commentator and Joshua Bleill, wounded warrior and public relations representative for the Indianapolis Colts. IMPACT Co-Chairs Walter Wise, General President of the Iron Workers Union, and William Brown, President and CEO of Ben Hur Construction Company, will be on-hand to join in discussions at the Conference.
This year's Labor-Management Conference will include a town hall meeting, moderated by IMPACT Co-Chair William Brown, joined by the Iron Workers International's General Officers, Walter Wise, Eric Dean and Ed McHugh. For the first time, Iron Worker District Council Presidents will also participate in the town hall meeting.
About IMPACT: The Ironworker Management Progressive Action Cooperative Trust (http://www.impact-net.org) was formed in 2003 under Section 302(c) 9 of the Labor-Management Relations (Taft-Hartley) Act. IMPACT is a non-profit, tax-exempt labor-management trust under Section 501(c) of the Internal Revenue Code. The primary mission of IMPACT is to expand job opportunities for union ironworkers and their signatory contractors through progressive and innovative labor-management programs, training and safety. IMPACT is governed by a 26-member Board of Trustees. Each of IMPACT's 10 regions is represented by one labor trustee and one management trustee.
###